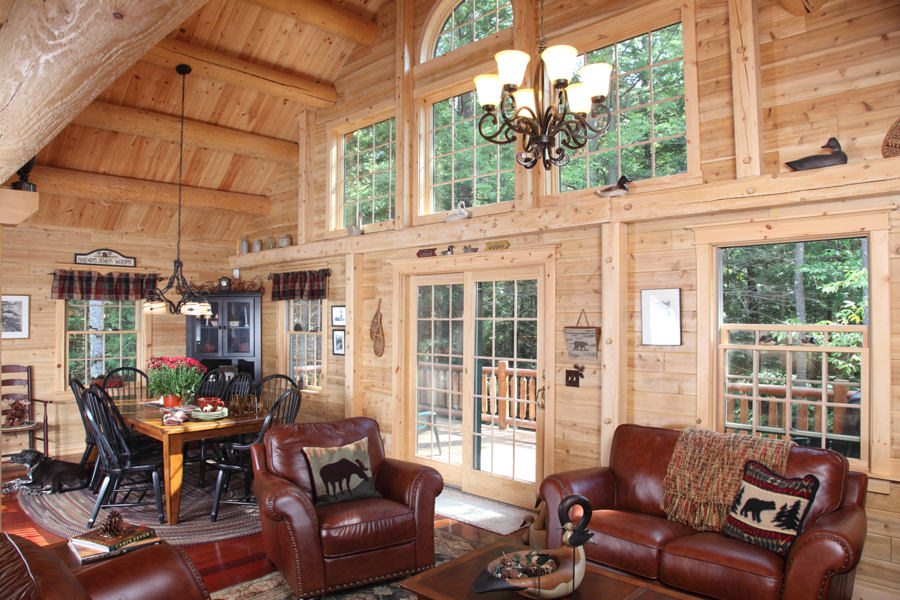 For durability, comfort and a natural style that fits well in log homes, few upholstery types match up to leather. For homes with lots of windows, leather offers superior fade resistance when compared to fabric. But with so many options for furniture available, make sure you understand what you are getting in a piece of leather furniture. Here are six tips to get you started:
Know your leather types. Full grain indicates that the full skin is used. A split grain will indicate an inner layer has been treated to look like the exterior of the skin, but is not as strong as full grain. Leather is subject to imperfections and a blemish free skin is rare and more expensive. Most leather furniture aficionados enjoy the character a few blemishes provide, but if there are too many funky marks you may want to consider another choice.
Ask about the tanning techniques. The way the hides are tanned will also affect the feel, durability and appearance of leather. Analine leather is dyed in a drum, allowing the dye to fully penetrate the leather. Analine is the softest and the drum dying process gives a rich finish and color to the hide. Semi-analine is also dyed in a drum and has a small amount of coating applied to make it more resistant to stains. Pigmented leather has the coloring applied to the outside of the skin rather than through-and-through and can offer some additional protection to scratches. Bonded leather is an inexpensive upholstery version where split grain leather is applied to a vinyl or plastic base.
Make sure your furniture has these features. Because leather is long-lasting, it's not a good idea to mix upholstery on the same piece of furniture. For example, pairing vinyl and leather on the same piece may cause trouble later as vinyl has a significantly shorter lifespan. For removable seat cushions, make sure that they are fully zippered. The cushion foam will wear out before the leather does, so you'll want to be able to replace inner cushions easily.
Make sure the furniture construction is solid. The longevity of leather demands a solid frame construction to last as long as the covering. A solid wood or steel frame can match up to the longevity of the leather upholstery. Check the stitching to ensure a tight finish on seams. Leather can be a bit slippery, so some styles work better in leather than others. Scatterback pillows may be challenging to keep on a leather couch, and generally, leather seems to work best in relatively simple lines.
Keep maintenance simple. Leather is a durable surface, so a general wipe down with a clean cloth on a regular basis should be enough to keep it clean. Most spills will wipe up easily, though light colored leather may stain darker when exposed to a highly pigmented source, such as red wine, grape juice, or blueberries. Families with small children or pets may opt for furniture with a darker pigment.
Expect improvement over time. Leather furniture will soften and develop some interesting characteristics as it ages. Most people find they enjoy their leather furniture even more after a breaking-in period. The leather warms to body temperature within a few seconds of contact and breathes well, so it remains a comfortable seating option all year round.