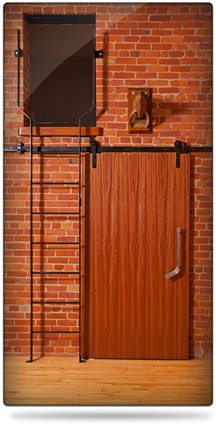 Who isn't charmed by the rustic appeal of a sliding barn door? It gets even better now thanks to precision milled track systems manufactured by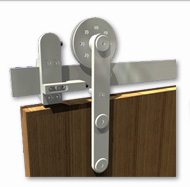 Canadian company K.N. Crowder. Unlike the barn door you may have slowly heaved open, these barn door tracks slide open noiselessly and smoothly with just a couple of fingers.
The barn door you select might be cross-sawn oak salvaged from a nearby barn or mill, or a glossy slab of varnished oak or maple. The design options are endless and offer log home owners a new way to reconfigure indoor space with a touch of a finger.
Use the barn door to help create efficiencies in areas that are underused in the winter, or separate groups for effortless entertainment, with the games in one area and quieter conversations in another. With a little imagination, these barn door tracks can be realized as a "moving wall" for intriguing options, such as a self-contained library bookshelf that slides to reveal a private study or a moving art gallery.
The hardware is available in two styles, a more rustic flat bar with either a black or nickel finish or stainless steel round track for even quieter movement. A single door can slide from one end (open) to the other end (closed), or two doors from either side can meet in the center of the opening like a pocket door.
The rails are available in standard sizes or 6, 7, 8, 10, 12, 14 and 16 feet as well as custom orders. The rolling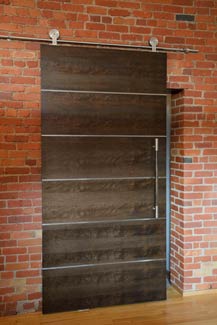 wheels ride the top of the rails and have shock absorbing stops at either end. The rails can support up to 350 pounds per door. From an engineering standpoint, you'll want to ensure that the wall that carries the tracks will be sufficiently reinforced to bear the load of the door. For more information or to locate a dealer, click here.