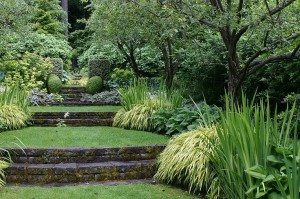 Working with a sloped site has a lot of advantages for situating a log home, including walk out basements and scenic view potential. But a little attention to the area around the home in the early planning stages can make for a truly dramatic finish to your home.
Terraces— One of the most common treatments for a sloped lot is to construct one or more terraces. Depending on the rise to run ratio, terraces can add level areas to accommodate patios, gardens, decks and other amenities. This is best accomplished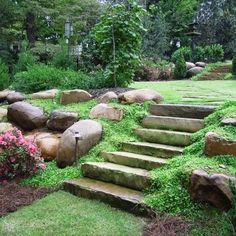 with a professional landscaper, who can assess and design a solution based on your needs and budget. Terraces can either be seeded for turf surfaces, or paved with stones. If rainfall is minimal, opt for stonework or gravel finishes instead of turf.
Retaining Walls — The transition between one level and another is often achieved by retaining walls. The deeper the retaining wall the more important the engineering surrounding it is. Ensuring proper drainage with the right composition of gravel and sand, perforated drain piping and careful tamping of the material behind the retaining wall will ensure that the wall stays sound through all seasons. If not set in properly, accumulating water could build up behind the wall causing it to bulge and ultimately fail.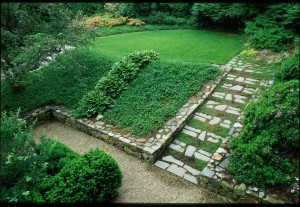 Stone Steps— In New England, native granite is a popular treatment for steps down a sloped lot or transitions between levels. Other options might include pavers, bricks and treated wood. Steps should be set into sand and leveled for long lasting beauty.
Paved Ramp— If the rise and run ratio is shallower, a paved ramp could be a beautiful alternative to steps between levels. Use pavers or irregularly shaped native stones, spaced with a hardy turf grass or moss. A paved ramp also makes the garden area more universal design friendly and easier to navigate for the physically challenged.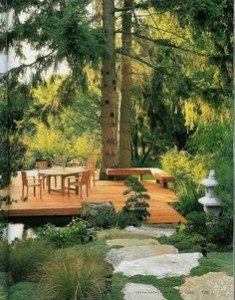 "Floating" Deck — If the slope is too steep for terracing, extend your view amenity with a floating deck that extends out over the sloped area. Adding curves and naturalized railing details can make this type of deck seem like a grown-up tree house.
Water Features — Waterfalls and ponds are super additions to a sloped area. A waterfall might descend between one or two terraces, or cascade alongside steps. A series of pools and falls can make the setting all the more natural-looking. Add complementary lighting and seating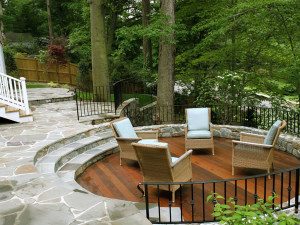 for evening retreats and you'll enjoy a relaxing setting in your back yard.
Sunken Patios— Ringed with planters and stonework, a sunken patio recreates the funky mid-century sunken living room feature found in many homes of the times. Furnish the sunken patio with benches, a fire pit and surround it with easy-to-tend plantings for multi-season entertaining.