Central air conditioning in log homes is a must-have for most homeowners. Adding cooling to your log home can be achieved in a number of ways, using traditional condensers, heat pumps, or even strategically located mini split heat pumps in key rooms. If you're planning on central air, you may want to consider using small duct high velocity system (SDHV)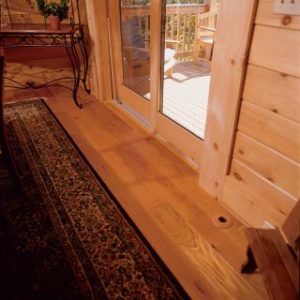 in your new home.
We spoke with Scott Intagliata from The Unico System, based in Arnold, Mo., where SDHV systems have been developed and manufactured for years by this family owned company. The Unico products are being used quite successfully in log homes and other custom new construction as well as for retrofitting older homes—especially historic buildings where large ventilation systems cannot be accommodated in limited space. The SDHV system is relatively simple in concept: a high-velocity air handler moves air from the air conditioning condensing unit through a 7-inch to 10-inch diameter main duct or "plenum" to smaller supply 2-inch or 2-1/2-inch diameter tubing. These supply tubes then terminate in subtle, small-profile vents that blend into the log home décor seamlessly (note the vent in lower right of the log home photo) .
All the components are designed for maximum power in the smallest available space, which is why we think it's a great fit for Katahdin log homes. The small supply duct high velocity tubes will fit neatly into exterior walls in the Energy Envelope's insulation layer or inside interior walls. Unico Systems offers 16 different wood species for their minimalist duct outlets, eliminating the need for unattractive grates, vents and other oversized air outlets.
One common concern with high-velocity air systems is noise. The Unico Systems are designed for ultra-quiet operation, from the sound-insulated air handler to the insulated duct tubing that delivers the conditioned air. Plus, the air handler unit is designed to take up very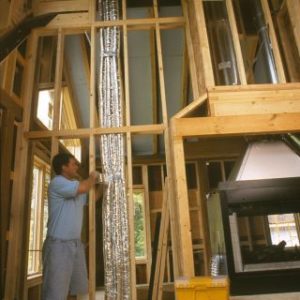 little space, and can be mounted either vertically or horizontally to maximize limited space.
Draft-Free, Even Temperatures
Unlike traditional forced air systems that dump cold air into a room, the smaller Unico Systems ducts distribute conditioned air using an air dynamic called aspiration. The airstream enters the room at a velocity that creates a gentle suction around the airstream. This subtle effect draws the room air into the stream, and the gentle swirling action creates even room air temperatures from floor to ceiling and room to room.
Other benefits
The Unico System offers higher humidity removal — about 30 percent more than traditional AC— so that comfort can be easily achieved with a higher thermostat setting. In addition, because the Unico System uses a high velocity air handler, it is particularly effective in high altitude locations, where thinner air can impact the efficiency of conventional HVAC.
Super-Efficient Heating
The Unico System small duct high velocity system can be used for heating a home in one of three ways:
Hydronic (hot water) coil
Add-on heat pump
Electric duct heater
The final option, an electric duct heater, is available through Unico Systems and is designed for primary or back up heating duties.
New Options with iSeries Outdoor Inverters
Unico now offers an outdoor inverter option, called the iSeries, which features variable speed operation and high SEER rated efficiency of 18-20. The unit matches up with Unico's small duct products and their ductless high wall split with great efficiency.