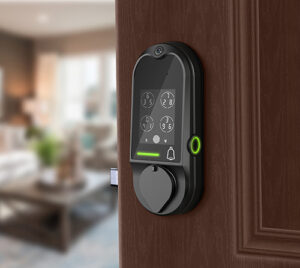 With the variety of smart lock systems available for your Katahdin Cedar Log Home, we take a look at the features now available—and whether they make sense for your situation. As with any electronic devices there are bells and whistles that you'll use every day. Other features may not be worth the upcharge to add on.
What Features are Available on Electronic Locks?
One of the most advanced systems on the market is the Lockly Vision™ Doorbell Camera Smart Lock. This one has incorporated nearly all the electronic lock features available on the market right now. 'Here are some of the highlights:
Security — The Vision smart lock incorporates a fingerprint identification as well as a digital keypad. Unique passcodes can be applied to allow cleaning personnel, guests and other entries with the ability to track comings and goings. A physical key is also part of the locking system to provide mechanical access when Wi-Fi signals are unavailable.
Peek-Proof Digital Key — The touch screen scrambles numbers randomly so that casual observers cannot decipher the code by keyboard position.
Communication —  The Lockly Vision integrates a camera with two-way communication that is accessed through the smart phone. The camera can live-stream what it's seeing to your smart phone, a useful way to respond to deliveries remotely or while otherwise occupied at home.
Smart Home Capabilities — Check your door status using Google Assistant or Amazon Alexa.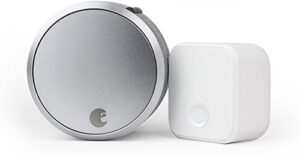 Looking to Upgrade Using your Existing Deadbolt?
If a more simplified security locking system is more your style, check into the August Yale Smart Lock Pro. This smart lock simply attaches to the existing deadbolt on the interior side of the door. Your keys and exterior lock and handle remain in place. The unit uses Wi-Fi to unlock your door with your smart phone, allow access to guests and automatically lock and unlock using your smart phone and/or your Apple watch.
Build on Your Existing Smart Home System
Many homeowners have installed Nest products for temperature controls, fire alarms and carbon monoxide detectors.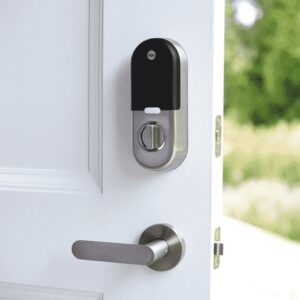 If you love the Nest family then it probably makes sense to use the Nest x Yale Lock. The sleek unit replaces a standard deadbolt lock and offers lock and unlock remotely with your smartphone and integrates with Nest Home and other components like the Nest Hello Doorbell camera.
There are lots of options out there for keeping your Katahdin Cedar Log Home secure and safe. It's just a matter of selecting the right features that are compatible with your smart home system.