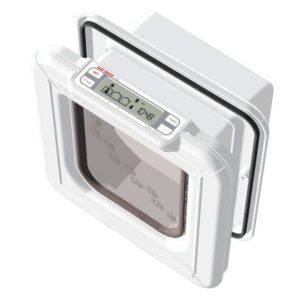 Smart pet doors make pet ownership easier— and with all the new features available you'll want to include them in your plans. Here are some features you can look for when shopping around for the right smart pet door.
Key Fobs—One downside to traditional pet doors is that other animals can access your home. These little key fob sensors attach to your pet's collar to ensure that your pet has access while denying access to other animals. The PetSafe Dog and Cat SmartDoor Plus only opens when your pet's key fob activates it. This option may not work if your pet loses his collar often, or if you have more than one pet.
Microchip Access — The alternative to the key fob access is to program the door to sense your pet's microchip. CatMate's Elite Microchip Cat Flap  with timer control adds timed access so allowing your cat out only during daylight hours is an option.
Insulated Flaps — You've invested in good insulation in your new home, so the last thing you'll want to install is a drafty pet door. The PX1 Power Pet fully automatic pet door seals tightly and allows for pet access on a timer basis.
Curfew Timers & Lock Modes— For a little more control over pet entry, opt for a pet door that features lock modes and timers. Lock modes allow control over where your pet is: most commonly, the door is programmed to let the pet in, but not out, or vice versa. Curfew timers can lock the door, then unlock it when it's time to go out. This is a great feature if you want your animals in at night, but don't want to get up early to let them out.
App Controls— Some new technology coming soon will allow you to operate an electronic pet door with a smartphone app. The Microchip Pet Door Connect uses your pet's microchip as a sensor and an app to allow remote control of your pet's comings and goings.
No matter what kind of pet you have in your family, it's easy to provide controlled access in their new log home!