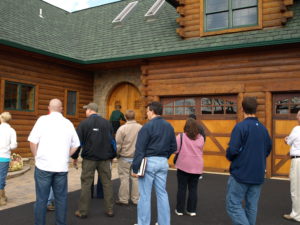 Hey everyone! Last week we announced that we'd be hosting our FIFTH Logapalooza event, heading back to the Deep Creek, MD area on Saturday, October 19th. We love hosting this event in Deep Creek because there are so many beautiful Katahdin Cedar Log Homes there. Between the guided tour, self-tours, and drive by homes, you have the opportunity to see a LOT of homes.
It occurred to us today some people may benefit from a more detailed explainer of what Logapalooza is. So let's break it down! Logapalooza combines our two most popular outreach events: the Seminar and the Open House. Let's take a look at how your day will go:
First, you'll check in with us and get your Logapalooza materials. Then you can grab a coffee and a snack from the complimentary breakfast spread while you wait for the seminar to start at 9 am.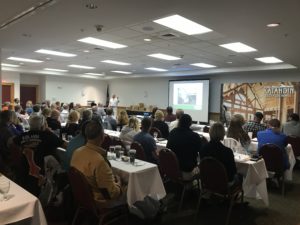 David Gordon, Owner and President of Katahdin Cedar Log Homes, will be the first to speak. He'll give an overview of Katahdin and talk about the manufacturing and design of our homes. After Dave's done, the attendees will be split into two groups.
Group #1 will be taken by bus to a Katahdin Cedar Log Home for a guided tour. Katahdin staff will be present on the bus and in the home to point out areas of interest and answer questions. Group #2 will be hearing from Gabe Gordon, VP of Sales and Marketing at KCLH, about log home planning. This presentation will get into more detail about the process of designing and building your custom log home. When Group #1 returns from their guided tour they'll swap.
After everyone's back we'll reconvene the groups and give you all the information for the self-tour. This will include packets on all the homes open for you to see with info, floor plans, and addresses. It will also include a list of homes to view from the road on the way. The open houses will run from 2-6 PM. See them all or just the designs you're interested in, it's up to you.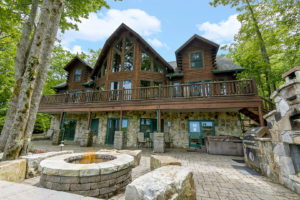 There's one last important thing before we set you all loose and that's lunch, on us! It's a great time to chat with us about where you are in the process and anything that wasn't answered for you in the seminar. Then it's off to the houses!
It's a great day and we'd love to see you there. Logapalooza is our favorite event of the year and our customer's favorite too. Visit our event page to see photos of the home and RSVP. Once you've registered, you'll receive a confirmation email that includes information on the room block we have for attendees at the Wisp Resort. It'll also contain a special invite only for Logapalooza guests. Click here to check it out.
We hope to see you there!