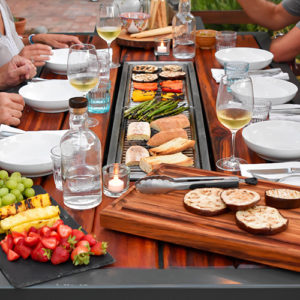 Entertaining family and friends just got a lot more fun. Social grilling tables put the grill master back around the table with guests for an enjoyable experience. These grilling tables are the brainchild of a California company, iBBQ to put the social back into backyard grilling.
 How do they work?
If you've ever experienced Korean barbecue, you'll immediately get the picture! iBBQ's grilling tables are equipped with small gas-fired grills in the center of an attractive contemporary teak or tigerwood table. The tables access either natural gas or propane to fire up the barbeque right at the table! As host, you'll be able to spend time with your guests instead of sweating over a large grill away from the action. With the social grilling table in place, all you need to do is some minimal ingredient preparation and guests can grill their own meals just the way they want it. Each grill has separate flame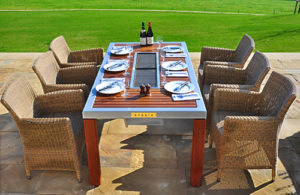 controls, so veggies and meats can grill side-by-side.
Many Sizes & Features
These contemporary design grilling tables are available in two models:
Angara Maximus offers a full spectrum of features. Handcrafted in California in marine grade T-316 stainless steel and imported Indonesian grade- A teak, the Angara Maximus is available in three lengths (4-, 6-, or 8-seater) and two heights, about 30 inches high or club table height. The Maximus features state-of-the-art electronics and a host of cutting-edge features including flame rectification technology, one-touch ignition, and a keyed central gas lock for safety. The table's Wi-Fi-enabled, discreet color LED lights allow you to pick the color that will enhance the mood of any party. The company offers a 2-year warranty on the electronics and 10-year warranty on furniture components.
Angara is crafted from rugged South American tigerwood or Goncalo Alves, which features dramatic tiger-striped variegation. Like teak, tigerwood is very dense and excellent in outdoor settings and is sustainably harvested. The Angara has a 5-year comprehensive warranty on the furniture and cooking chassis.
Flexibility for Seating
When the grills are not in use, matching teak or tigerwood covers fit over the grill surfaces. The grills, briquette trays and grease trays are all dishwasher safe, so clean-up is a breeze! Accessories include a tough canvas table cover, matching teak or tigerwood benches for the 30" model, and a matching propane tank enclosure. Natural gas is piped directly to the table and connected to the home natural gas supply. The tables start at just under $3000, with financing available. It's an intriguing way to create an outdoor kitchen experience with a relatively low cost.