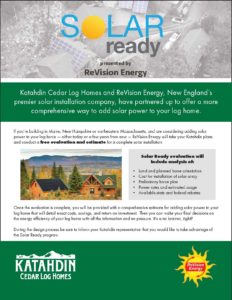 Throughout the more than 40 years we've been manufacturing log homes, we've maintained a commitment to sustainable energy practices. Now we're embarking on a program to make it easy for our customers to ensure that their homes are Solar Ready!
Katahdin Cedar Log Homes has teamed up with Liberty, Me.-based ReVision Energy to offer complementary solar-ready design and planning for our log homes. The Solar Ready Homes program will assist Katahdin's customers with adding solar photovoltaic panels to their custom log home designs, along with options for battery storage, heat pumps and electric vehicle charging stations.
"We hope to encourage our customers to embrace solar energy in their new Katahdin and Arborwall homes as an easy way to harvest the energy of the sun for many years to come," said Katahdin owner and president, David Gordon. "Whether the solar array is planned for the initial construction or as a later upgrade, ensuring that their home is solar ready increases overall value."
If you're building your Katahdin dream home in Maine, New Hampshire and northeastern Massachusetts, ReVision Energy will provide a complimentary Solar Ready evaluation that will include analysis of:
Land and planned home orientation
Estimated cost for installation of solar array
Preliminary home plans with solar integration
Power rates in your area and estimated power usage
Energy efficiency rebates and tax incentives available (state and federal)
For those of you planning to build outside ReVision's Northern New England territory, the company is affiliated with 45 excellent solar companies nationwide through the Amicus Solar Cooperative network. Coupe noted, "We'll be able to help point people toward a great provider through this innovative solar energy collaboration."
With solar panel prices historically low and high-efficiency panel technology, there's never been a better time to include solar in new home construction. "The key benefit of solar in today's market is the opportunity to fix a home's lifetime energy costs at a very low rate," said ReVision Energy's co-founder Phil Coupe. "Today's solar panels have a 25-year warranty, but may achieve a 30 to 40-year lifespan," he explained. Amortizing the initial cost of solar over 40 years locks in an incredibly low rate for clean electricity.
For Gordon, offering an easy way for his customers to explore solar is a continuation of Katahdin's focus on the environment. As North America's largest northern white cedar processor, the company utilizes every bit of the tree. In addition to log homes, Katahdin manufactures cedar fencing, outdoor accessories and playground equipment using the cedar they process. Tree bark is used to make mulch, while scraps and sawdust are fed into an industrial biomass boiler to heat mill buildings and run the drying kilns.
Coupe noted the parallel green business goals that will be enhanced by the partnership between ReVision and Katahdin. "As a certified B Corporation, ReVision is always seeking a broader impact outside our own company's efforts. This partnership offers a chance for both companies to become stronger and offer relevant benefits for our customers." He said that Katahdin's positive reputation for quality and strong customer relations made the Solar Ready collaboration a natural fit.
ReVision Energy is one of the largest solar installation companies in northern New England, having installed more than 6,000 solar energy systems on homes, business and at community solar projects. Their 165 employees operate out of five locations in Maine, New Hampshire and Massachusetts.
Interested in getting your Katahdin log home Solar Ready? Talk to your dealer or customer representative.