When the weather turns cold, space heaters can be an energy efficient choice for heating small seldom-used rooms, or areas where only one room in a zone needs to be warmer. The US Department of Energy recommends some basic guidelines, including making sure that the heater has up-to-date safety features and has an Underwriter's Laboratory (UL) label attached to it. The DOE also recommends ensuring the heater is thermostatically controlled, to avoid wasting energy from overheating a space. Most heaters include a sizing table that can help you choose a space heater to fit the room. You'll also want to take care in placing the heater out of foot traffic areas, and out of reach of children and pets.
Radiant heaters emit infrared radiation directly to people and objects in range of the heat waves. Radiant heaters are more cost effective for small spaces, that don't need constant heat. Convection heaters heat the air in a room by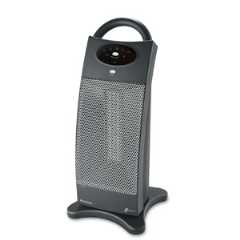 circulating heated air and can be used when overall temperature needs to be maintained for a longer time.
We took a look at some of the radiant heaters currently available on the market. As appealing as the "Amish fireplaces" might be, you'll get a better space heater and a more portable option if you select brands produced by more well-known manufacturers.
Holmes uses ceramic elements to produce the heat in their Ultraquiet Ceramic Tower (left).This unit has some nice features, including a quick heat-up time, a thermostat calibrated in 5 degree increments and a grill that changes color when hot as a visual reminder that it's on. The fan that circulates the air is quite, making a good choice for a home office.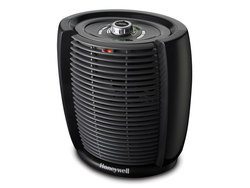 The Honeywell HZ-7200 (right) is an infrared heater that had an oscillating feature to include a wider area of objects and people in its heating range, but also works well as a deskside personal heater in a home office. The heater remains cool to the touch and has settings for either temperature or continuous heating.



Lasko's Low Profile Silent Room Heater (left) also had an adjustable thermostat and used a Die-cast heating element to provide the heat. Its low profile made it unobtrusive and quiet convection can heat a room quickly.
If you're looking for a more traditional radiator look, the DeLonghi Safeheat Mica Panel Radiator (below) might be a good choice.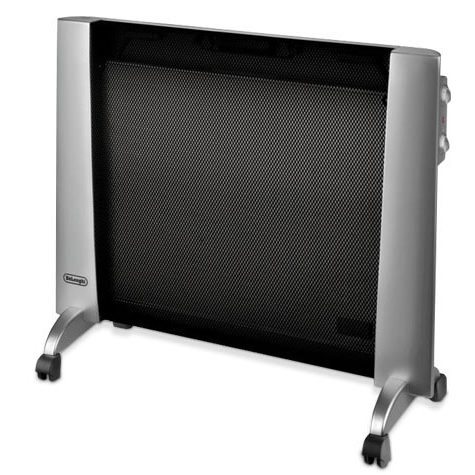 This unit can be placed on the floor or mounted on a wall, a good option for families with young children. It has a sleek modern design, but if a more traditional look is your preference, one of their oil-filled radiators might be a good selection.
For a good source of consumer ratings and reviews for space heaters, check out consumersearch.com, which posts extensive reviews for most major brands.