If you're considering building a vacation retreat for primarily winter use, then you'll want to include features to make your winter sports vacations more enjoyable. Many amenities can be added at the initial construction phase without adding a lot of extra expense. You'll want to review your ideas early on in the design process with your Katahdin Dealer or Representative.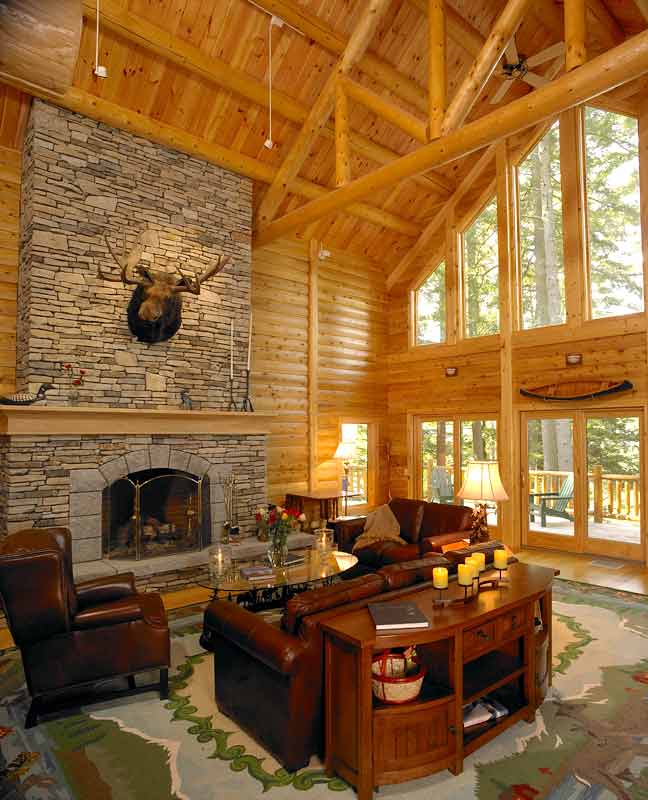 Lifestyle Can be Reflected in the Design
The first thing to consider is how the retreat will be used. Will the lodge be used by families, couples, or possibly as a rental? Families should consider more and smaller bedrooms or a loft for children. If the retreat will be used by adults, you'll want to ensure some privacy in extra bathrooms. If you're considering building a rental vacation retreat as an investment, make sure that you include extra locked storage areas for your linens, sporting gear and other personal items.
Unlike year-round log homes, vacation homes tend to be designed for a more casual lifestyle, with some rooms serving multiple uses. Many vacation homes are centered around a great room which feature a fireplace or wood stove. Perhaps you'll want to include an open-style kitchen where guests can gather to prepare meals. If your winter gatherings involve several families. consider arranging the bedrooms in separate wings to allow for some privacy. Children especially enjoy sleeping in a loft.
Winter Sports Amenities Can Add Value
Most people build their winter getaways with the goal of enjoying one or two winter sports activities. Creative space planning can reward the vacationer with useful and practical spaces within the vacation home.
Transitions Between Outdoors and Indoors
Most winter sports involve a lot of gear and clothing: ski boots and skis; snowshoes, jackets, hats and mittens; ice skates and firearms. You'll need an area between the outside and the interior living spaces where people can remove outerwear, dry off equipment and store large items efficiently.

A modified mudroom design, a lower level entrance to a daylight basement area or an ell that connects the garage to the main house can serve this purpose. Because the sporting gear to be stored in this room is going to often arrive wet and cold, you may want to consider an energy efficient kerosene space heater to warm and dry clothing and gear. You may also choose to include a programmable thermostat that will turn on and off in anticipation of afternoon returns from the outside. Your gear will be warmed and dried, and you'll be able to avoid clutter and mess in the main living areas.
You'll want to plan storage for bulky items like skis on overhead racks or the ability to stack them vertically in a corner of your transition room. Racks for boots, snowshoes and other accessories helps to keep these items organized. Plenty of hooks on the walls can accommodate parkas, snowsuits and hats. Don't forget to include a bench so that you can sit to remove boots or skates.
If you are an enthusiastic skier, showshoer, or hunter, you know how vigorous these activities can get, especially in colder temperatures. Winter fun can equal sore muscles. Consider adding a sauna or hot tub in which to relax and unwind.

One company, Maine Cedar Hot Tubs (www.maincedartubs.com) fashions beautiful cedar hot tubs in all sizes in kits or pre-assembled. Cedar is an ideal source of wood to consider for both homes and hot tubs. Cedar lined tubs provide a silky feel when wet and its rot resistance and insulation properties make it an ideal natural substance for a hot tub.

Another option is a sauna or a steam shower combination, where the shower enclosure is set up with steam jets and a bench for relaxing. Some modular steam showers are now compatible with 110v power and modular units can cost as little as $2000.
Shutting Down for the Season
Your vacation retreat will probably spend part of the year unoccupied. You'll want to design in features that keep it in good condition during the off season. Consider alarm systems, and security lights to discourage intruders, especially in remote areas. Most people drain their plumbing systems when closing up for the season to avoid the damage caused by freezing pipes. Make this process a quick and easy one by planning your plumbing to drain down to a single drain port. You may need to use slightly deeper floor systems to accommodate the slope needed to carry drained water to one place; but convenience and worry-free shut downs are worth the small extra price.
Other ideas for winter sport retreats include: heated sheds or extra garage space for snowmobiles, a garage-based refrigerator or walk-in cooler for storing game over a long hunting stay, and a solarium to help enjoy the limited winter sun indoors. The possibilities are endless and the rewards considerable, if you plan your vacation retreat with your interests in mind.