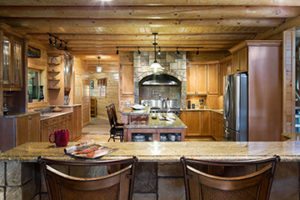 In many houses, the kitchen is the center of a family home life. The kitchen supports many different activities: from food preparation to dining, reading to homework, canning to entertaining. Having the right combination of lighting will make all of these functions easier and enjoyable. In log homes, lighting is particularly important as even lighter log walls can absorb a lot of light and require much more light to keep a room from feeling too dim or dark.
The most effective and efficient lighting for kitchens comes from a combination of lighting fixtures.
General lighting illuminates the room and provides enough light to complete general tasks, like setting a table, unloading groceries or making coffee. General lighting fixtures should provide a strong light but make sure it's not too harsh. General lighting can come from overhead lights and recessed lighting along the perimeter of a room. Track lighting in a kitchen can really do the heavy lifting and works particularly well with purlin beams in log homes.
Task oriented lighting illuminates areas that need additional light for precision tasks such as cutting boards, sinks, islands, and desk areas. Task lighting can be as simple or as elegant as desired. Pendant LED lights can light up a central island, provide enough lighting for food preparation, casual meals and clean-up. Another excellent task lighting solution is under cabinet lights. These are generally easy to install and inexpensive, while providing plenty of light on countertops.
Ambient lighting is where the fun and creative side emerges. Ambient lighting sets a mood for the kitchen area and can be as dramatic as a chandelier, modern as a tiny spot pendant or funky as a recycled wine bottle fixture. To avoid sharp circles of light cast from pendants, use a diffuser or semi opaque bulbs to soften the effect. Drum shaped lights can be coordinated with fabric to match seating or appliances, and create a colorful and fun atmosphere.
To keep your lighting as efficient as possible, opt for LED or modern compact fluorescents. Consider installing dimmer switches on the general and ambient light fixtures so that lighting can be adjusted based on the function. And remember that stunning log home kitchens really glow with the right amount of light.