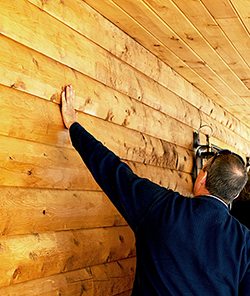 Winter can be tough on homes, especially if your area experiences snow and colder temperatures. Just like any other type of home, it's smart to run through your spring log home maintenance checklist to keep your Katahdin Cedar Log Home in great shape. We've identified some top maintenance items to check this month. One of the benefits of Northern White Cedar in our homes is their natural resistance to mold, mildew, and insects, so generally maintenance is lighter duty than on log homes constructed of pine logs.
Start with a visual inspection
Take a slow walk around your house and examine each side of your log home. Start at the roof and work your way down the walls using a grid pattern so you don't miss anything. Have a pair of binoculars handy so you can get a closer look at problem areas. Some things to look for:
Missing or damaged roof shingles
Flashing around chimneys that looks loose
Discoloration on the logs— either darker or lighter
Places where the log sealant may be cracked or peeling
Peeling paint or stain areas on soffits under gable ends or anywhere water or ice may have collected.
If you encounter any discolored areas or damaged sealant, snap a quick photo and make note of its location with some masking tape. You can return with a ladder if necessary for a closer look. Once you've identified small areas where the sealing application is damaged or bubbling, a quick touch-up with sandpaper and re-application can usually do the trick!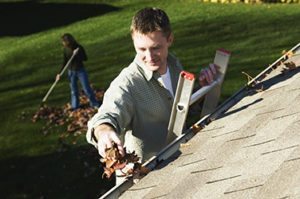 Check your rainwater systems
Moving rainwater from your roof to a location away from your log home's exterior walls is an important function. Check your roof gutters for debris from fall and winter that can clog gutters and cause them to overflow. Some log home owners install commercial gutter protection systems to keep the water flowing freely. Also check your downspouts to see if they're connected and directing water away from your home. Some homeowners use a rain barrel to collect rainwater for gardening use, which is another nifty solution.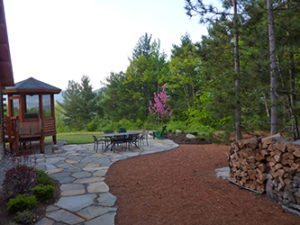 Trim and clear vegetation away from exterior walls
Keeping bushes and other vegetation trimmed and away from your log home's exterior walls is good general advice to keep moisture from collecting on the exterior walls. Maximize airflow and minimize contact with plantings to keep your home's exterior finish beautiful. It's also a good idea to avoid stacking firewood against your log walls for similar reasons.
Thoughts on power washing
If your log home seemed to collect dirt and grime over the winter, power washing may be a good idea. But first check with your builder for cleaner recommendations that will not harm your log home stain and sealer. Usually the manufacturer of your stain will have a cleaning solution that won't harm the finish. And it's smart to test any cleaning solution on a small area for any unexpected adverse effects.
Other spring maintenance items
Professional Roof Cleaning—If your home has architectural shingles that are showing dark stains, it's worth investing in a roof washing service. Their solutions often contain a mold and moss inhibitor that will keep your roof looking great for several years.
Chimney Sweeping — Even if you had minimal burning, it's a good idea to have your chimney cleaned. Your chimney sweep will also inspect the interior and exterior of your chimney as well as the seal and secure flashings, if needed.
Check the floors and rails on decks and porches— These outdoor surfaces can bear the brunt of winter especially if your area receives snow. Extra snow loads, melting and freezing, salt and sand can affect the appearance and structure of your decks and porches. You may want to consider sanding and resealing if excessive stains are noted.
Once you've tackled these routine maintenance items you'll be ready for summer fun!