It's not too early to start planning for our Spring Log Home Show schedule. We start the season in January with two Midwestern shows: Knoxville, Tenn., and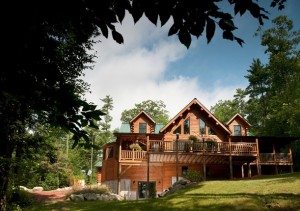 Columbus, Ohio.  The rest of the season will keep us busy right through May. With as many stops planned for this year, there's a good chance we'll be exhibiting in a city near you!
Log Home shows are a great resource to get answers to all your questions about log homes.  There many different ways to build log homes and we encourage folks ask as many questions as possible. We understand a log home is big investment and so it's important to understand exactly what we provide. We're happy to provide quotes and cost comparisons, if you have plans you'd like to bring along. You'll be pleasantly surprised by our answers!
Stay tuned for more log home events in the New Year, where you can meet with our knowledgeable, local dealers as well as learn more about the log home lifestyle up close.  Also keep an eye out for Katahdin Log and Learn Seminars in the coming months as we schedule them.
Katahdin 2016 Spring Log Home Show Schedule
Jan 8-10          Knoxville Log & Timber Home Show and University         Knoxville TN
Jan 29-31        Johnson's Log Home & Timber Frame Show        Columbus OH
Feb 19-21       Oklahoma City Log & Timber Home Show and University     Oklahoma City OK
Feb 26-28        Johnson's Log Home & Timber Frame Show     Syracuse NY
Mar 4-5          Log Home & Timber Frame Show       Atlanta GA
Mar 18-19       Dallas Log & Timber Home Show and University   Dallas TX
Apr 8-10          Log Home & Timber Frame Show     Harrisburg PA
Apr 15-17        Log & Timber Home Show and University   Louisville Ky
May 13-15       Log Home & Timber Frame Show  Lake George NY