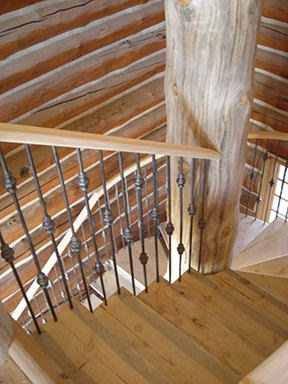 Many log homes owners present the hearth or fireplace as a central focus in a home. But a beautiful and dramatic staircase can really enhance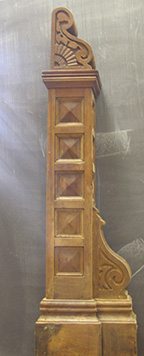 the open plan home. There are a number of ways to achieve an attention-getting staircase from adding a few design elements to add visual interest to having a custom staircase built for your log home.
First a primer on staircases. Traditional stairs are constructed with these essential elements: stringers, the side components that create the path to the next level; steps, which connect the stringers; balusters; and handrails. Steps are comprised of treads, where feet make contact and risers, which fill in the back of each tread. Rise and run ratios determine the steepness of the stairs as well as how much space the stairs will occupy. Circular or spiral staircases curve around a central post, and can vary in diameter, rise and other features.
Add a decorative newel post or baluster
One relatively inexpensive way to spice up your stairs is to add an antique element to the basic design. We took a look at some architectural salvage companies online — a good place to start to identify some great turned and handcarved pieces for your staircase. Some pieces will need a little repair, sanding or refinishing, but it's important not to fall in love with a piece that is in poor shape. Restoring old architectural pieces can be done, but you'll want to get a woodworker to provide a restoration estimate before purchasing. If your staircase rises along a wall, you may only need one terminal baluster post. Make sure that the rest of the features complement the antique newel post, as well to create a unified look. For example, a rustic rail and post may not work with a Victorian style newel post. Try to include more traditional modern rail and baluster millwork to work seamlessly with the antique elements.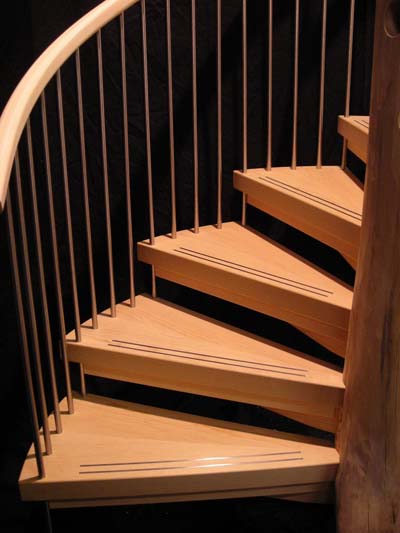 Industrial looks
Many homeowners with more contemporary style log homes opt for an industrial look featuring metal elements that blend with wooden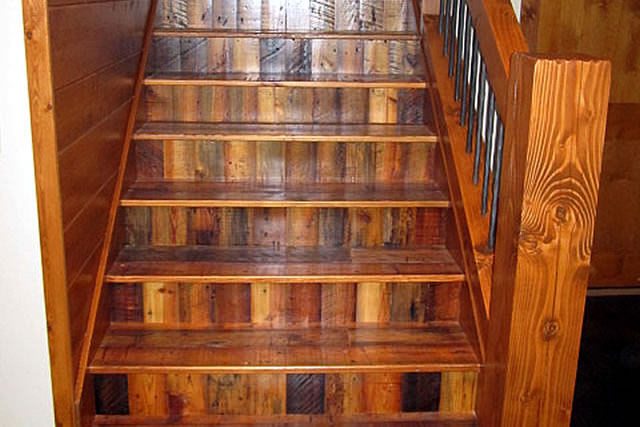 components to create a clean, uncluttered look. Rigging wire that is used in marine applications can open up sightlines while maintaining safety standards for balusters and rails. Using steel rods as balusters in combination with clean, finished wood rails can also meld a rustic feel with sleek design.
Reclaimed wood
Salvaged wood from dismantled barns, old homes or other sources can also add an interesting element to a staircase. Using darkly stained salvage wood as the risers with lighter wood for the treads can create a visually arresting display. A more subdued option would be to select bead board for the risers and paint them a contrasting or complementary color.
Building a custom staircase
Like any other element to a Katahdin Log Home, a staircase from an outside vendor can be substituted by the homeowner. To make sure this comes together seamlessly, the staircase contractor should be included in the initial design phase, to achieve the final desired look. We spoke with Bill Schwartz, the owner of StairMeister Log Works  based in Lupton, Colorado, about custom stair designs, particularly spiral or circular stairs.
"What I need to know at the start is the diameter of the area set aside for the staircase, the floor to floor elevation, and whether the stair should run clockwise or counterclockwise," Schwartz said. Then comes the fun part: the design. "I've used all types of wood, large and small columns and diameters of up to 80 inches," he explained. "One of the most interesting projects recently is the series of three staircases I built for a customer's tree houses (above left) in Sherwood Forest in England. The completed pieces were air shipped in a 747 to England."
A custom StairMeister staircase can have a budget from $8,000 to $100,000, depending on the design, wood species and timeframe. A staircase generally takes about 4 weeks to 6 months to build, and can be shipped just about anywhere, explained Schwartz.
If you plan well and spend a little time sourcing out interesting elements, your staircase can become a distinctive feature in your log home no matter what your budget is.