Adding a steam shower upgrade to your master bath is becoming easier and more cost-effective. No doubt this is a luxury bath item, but mainstream manufacturers are now offering steam options in just a few easy steps. We'll take a look at two options now available.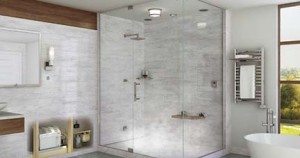 ThermaSol Steamshower Systems
First let's take a look at the Rolls Royce of steam showers, from ThermaSol's Superior Steamshower Systems. ThermaSol offers complete systems designed with specifications to transform a bath shower into a steam shower spa. Their website offers a four-step process on its Build Your Own Steam Shower page. The site walks you through the process, starting first with the size of the shower, which determines the size of the steam generator.
Sizing the Shower
When sizing the steam shower area in your plans, make sure that you've included enough room to accommodate single or two occupants, seating and good, tight fitting shower doors. You'll also need to ensure your bathroom ventilation fan is powerful enough to handle the additional humidity. Based on the size of the shower, the ThermaSol website then generates a selection of steam generators. Some things to consider when looking at steam generators include:
how far from the actual shower stall the unit can be located,
how quickly the steam is generated,
warranty,
and ability to communicate with sensors, and additional applications.
Fixture and Controls Selection
ThermaSol offers five fixture designs with 14 different metallic or color finishes. The fixture houses the main control for the steam shower. The controls can be as simple as a push button to an in-shower LED control panel with multiple settings and Wi-Fi capability. Other accessories the company offers include a smart phone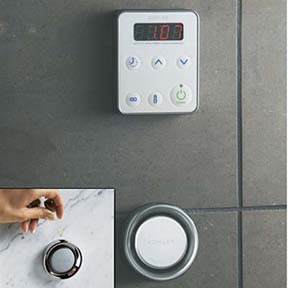 app, seating, no-fog mirrors, and aromatherapy options.
Kohler Steam Showers
Kohler has added a steam shower option to its array of residential bathroom fixtures and their website has great information about the benefits of adding steam to your master suite. Kohler's steam shower options are more straightforward with a selection of steam shower generator units for different sized shower areas, various control options and units, and one fiberglass seat unit. Their Lattis Shower door  with a sliding steam transom comes in several sizes and configurations. If you're selecting Kohler bathroom and kitchen fixtures, it may make sense to stick within the brand for compatibility. The pricing, while definitely in the luxury range, is lower than the ThermaSol brand.
These are just two of the options available for steam showers. If you plan on including one in your new home, you'll want to coordinate with Katahdin's Design Department to ensure the plans include the right location and specifics for the steam shower and its equipment.