Log home enthusiasts often select their land for the beautiful views and design windows, decks, and porches to take full advantage of the scenery. Indoors, too, many Katahdin homes feature lofts and staircases to provide interior views. The challenge is often being able to enjoy the view without obstruction, while maintaining safety and clean design. Steel cables have finally met architectural design in Ultra-tec® Cable Railing Infill.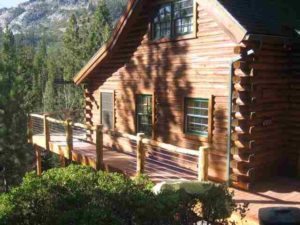 Simple, Clean Lines
We spoke with Lou Marino, President of Ultra-tec to understand where the company got its start. "Originally, these steel cables were borrowed from marine applications, and used in architectural applications," Marino said. "But the oversized turnbuckles, useful for fine tuning on sailboats, was cumbersome and difficult for non-professionals to install."
So, Ultra-tec developed fittings designed for contemporary architectural applications. The company designed fittings for lag bolts and threads into either wood or metal posts. The fittings were also designed to hide inside the posts, to maximize the clean, uncluttered look of their steel cables.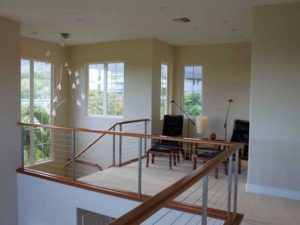 Great Design Support
Ultra-tec has set up its operation to support both professional contractors and specialized fabricators. Their fittings are optimized for easy installation, and there are  some kits available through mass merchandisers to do-it-yourself home owners. For larger projects, Ultra-tec has design capabilities to help take a design from concept to delivery. "We've worked from sketches on cocktail napkins to develop custom railing designs for projects large and small," added Marino.
Ease of Installation
Ultra-tec's steel cable railings are designed for easy installion, requiring no special equipment and swage-less fittings. This replaces traditional marine cables that required cumbersome swaging machines and specialized tools to install.  The company has even provided installation videos on its website with instructions for every aspect of the project.
Safe, Low-Maintenance Steel Cabling
The primary reason for installing railing infill is for safety. The steel cables are rated for high loads and can provide structural support for railings in elevated positions. And there are reasons steel cable is the choice of boat owners: superior durability and low maintenance. Based in Carson City Nevada, Ultra-tec manufactures all its products in the US.