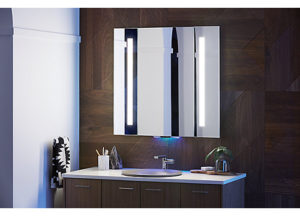 A talking mirror may once have been the stuff of fairytales, but Kohler's Konnect suite of products take your bathroom dialogue to a new level. Let's take a look at the suite of products newly available to make your bathroom respond to your smallest request.
What's Driving the Experience?
Home personal assistants have been available for most other rooms of your home through Amazon Alexa, Google Assistant and Apple Home Kit. Kohler's suite of voice controlled bath products interface with each of these voice controlled assistants to make a seamless addition to your connected Katahdin Cedar Log Home.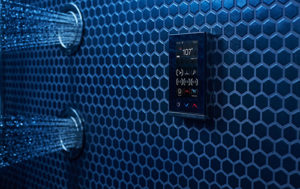 Mirror, Mirror
Kohler's Verdera® Voice Lighted Mirror takes instructions graciously. Just say the words and Verdera lights up with optimal sidelights for applying makeup, shaving or hair styling. One great feature is the motion sensor nightlight to make navigating easy at night. The mirror's built-in voice assistant operates other Kohler Konnect products.
DTV+ Shower System
This voice controlled shower system allows you to start your morning shower with customized settings to deliver an immersive shower experience every time. The system comes with eleven pre-programmed spa experiences, and enhance them with added lighting, music and steam.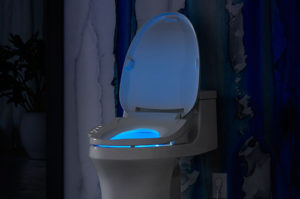 PureWarmth™ Heated Toilet Seat
This may be the upgrade that will please everyone in the household. The PureWarmth Toilet seat has three heat settings controlled through a button panel on the seat or a handy smartphone app. The seat also has a nightlight feature with two color options and two brightness levels. The LED light also offers a guiding light when the seat is down and a task light when the seat is raised. The seat also uses a quiet close lid to avoid the slam drop. The seat can be installed on any toilet and is available in two colors, white and off-white biscuit.
Coming Soon: Perfect Fill for Baths
This technology will soon allow you to fill your bath with a voice command set to your perfect desired temperature and depth. What could be more relaxing?
While these are not the first entries into the market for voice controlled bath systems, their connected space and well-designed features make them an appealing addition to your new log home.