The bathroom used to be a pretty simple concept: build a box that is reasonably waterproof, select your fixtures, install and you're done. Today with the dizzying array of choices, one would think designing a durable, environmentally responsible, bath would be a snap. But, not so fast…
Walls to last


The foundation for your tile or stone surfaces is the wallboard underneath. Here's where some attention to detail can make a difference. Despite your best engineering, you'll always encounter a moisture problem through condensation or a leak. Make sure that your cement wallboard is certified for wet areas in baths, otherwise you may experience an unpleasant mold problem. You may want to use wet-approved wall board for all bath walls, to provide a more waterproof box. Two cement-based options include HardieBacker and WonderBoard, while a gypsum tile backer board by Georgia Pacific DensShield is another option.
Sealing up the spaces


Both grout and caulk play an essential role in keeping moisture at bay and your tile or stone in place. Grout, though a durable medium, also acts like a dry sponge to draw water into areas behind or underneath tile. You can opt for some of the new epoxy grouts such as Spectralock which are easier to apply than earlier epoxy formulations, or apply silicone impregnating sealant to apply to the finished grout. Caulking is also part of maintaining an effective seal against seepage—you'll want to choose a premium product rated for bathroom use.

Ground Rules for Lasting Flooring
Flooring offers more options than ever. Ceramic tile and exposed concrete are still the top choices for durability (50 years) over linoleum (30 years), vinyl composite tiles (15 years) and some of the newer choices such as wood planks (30 years), cork (6 years), or bamboo (25 years), according to GreenBuilder Magazine. Once you add in the cost of maintenance, materials and number of replacements over the life of a bath, the lifetime range is spectacularly wide: $15.56 per square foot for ceramic tile to a whopping $294 per square foot for bamboo.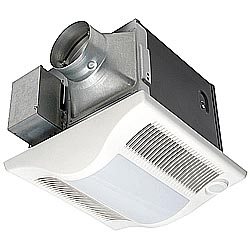 Quiet is the key to exhaust fans
The bath exhaust fan is essential for removing moisture that gets trapped in the room after every shower. Many building codes now require a continuously running fan. The key is to combine effective airflow and energy efficiency with a quiet motor. Panasonic features an online calculator to determine which fan will work best for your bathroom based on room dimension ceiling height and usage.

Fixtures that last a lifetime
For bathroom fixtures, faucets, shower doors, whirlpool tubs all last endure about 20 years or so, according to an National Home Builders Association study. Toilets, showerheads and vitreous china sinks are all durable for a lifetime. The top winner in the longevity of fixtures is the soapstone sink, estimated to last more than a century. You'll want to take note of the new ceramic disc washers now available for some faucet aerators, which require very infrequent replacement. Bath cabinets should also be selected for durability and moisture resistance. For better indoor air quality, choose cabinets that don't emit VOC gases, mostly particle board construction.
Making the right choices in designing bathrooms can maintain the value of your new cedar log home for a lifetime.