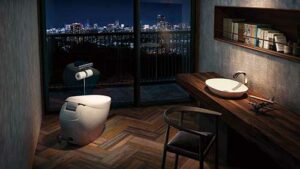 Just when you think you've seen everything, the TOTO Neorest NX2 breaks new frontiers in luxury toilets. This Maserati of green toilets thinks of every possible comfort for users and steps it up a notch.
Clean Sweep
Bidet toilets saw a rise in interest during the Covid pandemic when toilet paper was in short supply. The Neorest NX2 offers front and rear warm water rinsing with temperature and intermittent pressure controls. Finishing the process is a warm air dryer. And of course, the seat is heated! Its automated operation allows for a touch-free bathroom experience that is likely the cleanest solution available.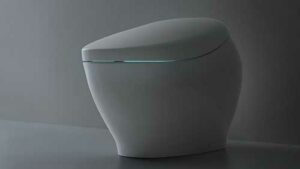 Automated Operation
The Neorest toilet set can be operated via remote control or sensor that raises the lid upon approach. When the task is completed, the Neorest NX2 automatically flushes using a powerful flush. The Tornado Flush system only uses one gallon of water in a high-powered action that saves water and provides superior results.
Complete Flushing
Upon approach the Neorest's eWater+ system pre-sprays the cleaning wand and bowl to facilitate a clean flush. The bowl's interior is finished in CEFIONTECT ceramic glaze, a hydrophobic surface that prevents waste from clinging. The Neorest uses ACTILIGHT clean light cleaning system built into the lid.
Creature Comforts
The toilet also automatically operates an air deodorizer and has a handy night light function for visibility.  The Neorest NX2 is ADA compliant and at universal height.