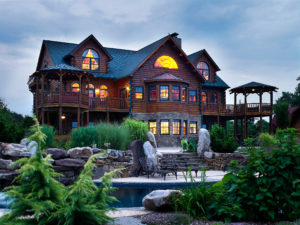 Good afternoon and thanks for coming by! It may be the sub-zero temperatures we're currently facing up here but this week all we want to think about is enjoying the (warm) outdoors. So, let's talk about the many benefits of outdoor living with this week's Trade Tip: Increase Living Space by Going Outdoors.
There are many reasons why our customers decide to go with smaller footprints for their Katahdin Cedar Log Homes. Some are downsizing after their kids have grown up and moved away. Others may have traded a large lot size for a lake view instead. No matter what the reason, sometimes their indoor living space doesn't quite meet all their entertainment needs all of the time. This is where outdoor living spaces come in.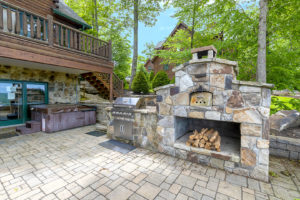 We've seen some amazing examples of this at our customer's homes. The most obvious is probably a pool. Add a large patio with room for lounge chairs and you have the perfect outdoor entertainment area. Are pools (and all the work they can come with) not your thing? Outdoor kitchens are also a big thing right now. From grills to smokers to full stone pizza ovens, the sky is really the limit.
This isn't to say you need to go that big if it doesn't work for your space or your budget. Sometimes all you need to increase your hangout space is a fire pit and a few Adirondack chairs.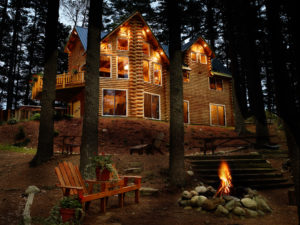 Talk to your dealer and builder about what you'd like to see for your outdoor space. They can make sure your porches and decks are the right size and work with your landscaper to make sure you have plenty of room to entertain. Thanks for tuning in to this week's Trade Tip, see you next week!