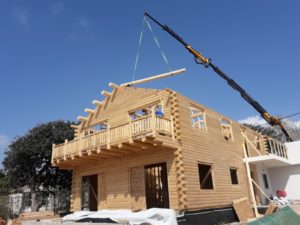 Good morning everyone and a Happy Trade Tip Tuesday to you! Today we're going to move from designing your dream log home to actually building it! To do that you need a builder you can trust. Let's talk about how to find one in this week's Trade Tip: Question Your Potential Builder.
Who you choose to build your Katahdin Cedar Log Home is completely up to you. While your dealer might give you some names of builders they've worked with before to make your search easier, they're just a suggestion and it's still a decision that you have to make. So how to choose? We suggest questioning any potential builder thoroughly before you sign a contract. Some things you might ask them:
Are they experienced in building log homes?
Do they have at least three references you can contact?
Can you see some examples of their recent work? Is it similar to what you envision?
What is their build schedule? How long do they estimate for your project?
Are they familiar with the area you're building in? (Building codes and permits can vary greatly depending on location.)
Do they have a network of subs for things like septic/electric/plumbing/etc. How large is their build crew?
What do they require to "book" them for your project? Deposit amount?
The answers to these questions should give you a good feeling about whether or not this is the right builder for you. Once you've chosen a builder they will work with you and your dealer to finalize your home design and get the build process going. Thanks for tuning in to this week's Trade Tip…see you next week!