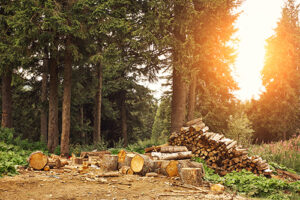 You've selected the perfect site on your wooded land for your Katahdin Cedar Log Home. As with many wooded sites, it's a great idea to incorporate existing trees from the wooded areas into your landscaping plan. It saves money and can create just the look you desire without having to wait for nursery trees to mature.
Know Your Trees
It's a good idea to read up on the native trees in your area to determine which might make the best "keepers." Select a mix of hardwoods and softwoods so that your landscape will have color year-round. Take into account the potential growth diameter of the tree's crown so that your trees have room to grow and thrive.
Consult an Arborist or Tree Expert
Many areas have state university extensions or other resources to help identify which trees to save and which to remove.  If your land is densely wooded, you may want to consider including some selective cutting to maintain the healthy growth in your forests. Additionally, some good hardwoods may have reached their maturity and could be harvested for other uses within your new log home, such as mantle, decorative trim or custom furniture.
What Makes a Keeper Tree?
There are three elements that go into tree selection:d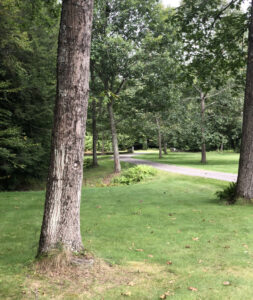 Location — Is the tree located to add shade in the right place? Will it grow too big and block important home elements like solar panels? Is it aligned with other trees, say along the path of your driveway, or along a bank? Is it far enough away from the building site to avoid causing problems during construction?
Species — Does the tree shed lots of leaves or needles that could be problematic around buildings or pathways? Will it produce a fruit that is messy to clean up? Is it susceptible to invasive species in your area?
Structure — Is the tree too crowded on one side that will affect its shape once other trees are removed? Is the trunk straight? A vee located low in the trunk may cause one side to break away, causing the entire tree to eventually fail. Look for woodpecker holes that may indicate insect infestation.
Mark Your Selections
Mark the trees you wish to keep with bright surveyor's tape and review the tree selection with your builder and your site prep team. There may be trees you'll still need to remove because of planned septic or underground utilities.
Once your Katahdin Cedar Log Home is completed, you'll be miles ahead in your landscaping with beautiful, mature trees on your property!