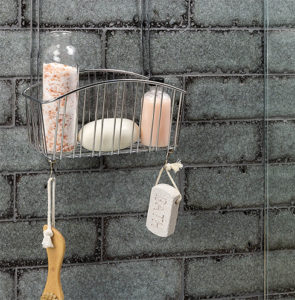 Sometimes it's a challenge to find tile that complements the beautiful cedar interiors in your Katahdin Cedar Log Home. That's why these two families of tile caught our eyes. Both can be found at Tile Bar, an online resource for tile ideas and tips for your home, with mix and match options, as well as $10 shipping on all orders.
Lava Stone Subway Tiles
These translate well into the rustic décor of a log home, with either muted or bold colors. Lava Stone fashioned from volcanic basalt, featuring the rough pitted surface created by the earth. The tiles are finished with a crackled glaze with two-tone finish that is especially sharp on the greyish blue Caspian and the glossy Black option. Rich emerald Aegean or bold blue Caspian can add a splash of color combined with a sophisticated glossed finish. Generously sized at 3 x 12 inches, these volcanic tiles can add a distinctive look in any room in your log home.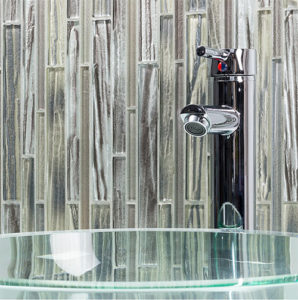 Mangata Glass Tiles Provide Texture
Three tile options in the Mangata collection  provide a different take on texture with several subtle textures in muted tones. Mangata's Brushstroke 4 x 12-inch glass tiles feature a swooping brushstroke texture in white on white. Other options in a similar size include Stitch and Groove both available in a café au lait color and white. Mangata's third glass option are sheets of "planks" with a natural under pattern that is reminiscent of melting ice. The tiles vary in width and length to create an arresting and harmonious look. For log homes, we love both Thundercloud and Adirondacks for glass planks choices.
Need to see it up close? You can order 5 different samples from Tile Bar for just $5.