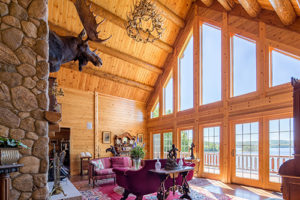 Log homes are usually furnished and decorated to match the owners' lifestyle, tastes and interests. This gorgeous Katahdin Cedar Log Home located in the Great North Woods of New Hampshire reflects the owner's passion for Victorian decor. We talked to Steve Ellis,  the owner of this stunning Victorian log home, to learn more about how it all came together.
The first thing you notice about Steve Ellis is his enthusiasm for all things Victorian and log homes. "The thing that many people don't realize is that Victorian-era design was at its peak in 1840-1860, just when the high-end log cabins were being constructed and furnished out west," Ellis explained. "If you take a look at the television show, Bonanza, the rooms in the Ponderosa Lodge all were furnished with classic Victorian pieces."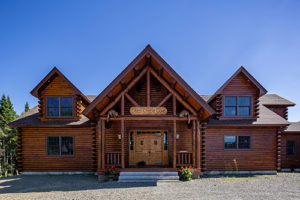 Ellis developed his love and expertise of Victorian antiques through his work at an auction house in Connecticut. Over the years, he collected many unique pieces, and furnished his West Hartford, Conn., home with the black walnut furniture and brass light fixtures that were common during that era.
But his dream was to build a log home on land he purchased more than 40 years ago in Pittsburg, N.H., on the banks of First Connecticut Lake, not far from the Canadian border. He had a smaller home and a large barn on the land, but his goal was a log home large enough to showcase his antique collections.
Log Home Shows as a Resource
Ellis, a retired insurance executive, is a meticulous planner, so he conducted his research over many years to find the right log home company to manufacture his Victorian log home. "I went to a lot of log home shows," he explained, "And talked with a lot of people. When it came time to select a log home company, Katahdin was the obvious choice for many reasons."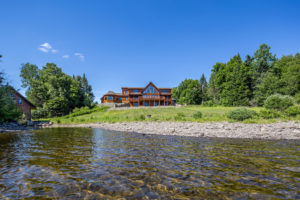 Cedar Logs to Counter Lakefront Moisture
Ellis looked at both pine and cedar logs for his home but was drawn to cedar's natural resistance to all the challenges of building next to a source of water. Cedar's natural oils provide protection against insects, mold and mildew—one of the reasons blanket chests are constructed from cedar. Lake moisture can make for an ongoing maintenance issue which cedar fends off well.
Quality People from Start to Finish
When Ellis visited Katahdin's mill in Oakfield, Me., he immediately realized that he was dealing with "quality people."  As Ellis tells it, "It was a great day! Katahdin does a great job showing how everything works, from processing the logs, to manufacturing the beautiful log homes," Ellis noted. "It was such a warm atmosphere and I got the sense that the people knew they were making a quality product."
Top Notch Dealer-Builder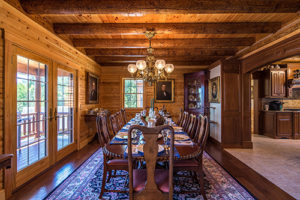 Another important element to successful log home construction is an experienced dealer and builder. Ellis found both with Harold (Chummy) and Lynne Lassonde of Mountain View Construction located right in Pittsburg, N.H. Ellis couldn't say enough about the Lassondes' quality building and expertise, noting that the key to success in construction is to have a great relationship with the log home builder. "Chummy and Lynne helped me with so many decisions and offered solutions that enhanced my home in so many ways," Ellis said. While he was onsite during construction in another house on the property, "I didn't bother them, and they were quick to check in with questions or decisions that needed answers."
When it came to the finishing details that make this Victorian log home so magnificent, Ellis gathered together a wealth of resources to get each detail just right. He relied on the design skills of his son, Brad, whose company Bradford Ellis Design specializes in traditional interior design. Father and son worked together to design interiors in the lodge that made the most of Ellis's extensive collection.
Energy Efficiency & Design Flexibility
One notable detail in the Ellis home is the different interior wall finishes. Ellis was concerned that there might be "too much wood" with the final log home design. The flexibility of  Katahdin's Energy Envelope System allowed for a variety of interior finishes, including a drywall and chair rail effect evident in the hallways and several rooms. The effect is a bright and pleasing interior that saves energy, too!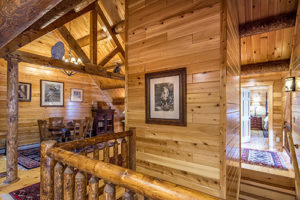 Modern Amenities Make This Home Work
One of the elements that Ellis wanted to include in his Katahdin design was an elevator. With the master suite on the second floor and a huge lower level, this universal design feature will allow Ellis to enjoy his home's three floors fully—even if some mobility issues crop up. "Plus, it's just darn convenient!" Planning for the elevator needed to be included in the design from the beginning to ensure that space was allocated for the elevator shaft and mechanicals. The basement also needed to have appropriate footings poured to support the shaft structure. He located an electric motor elevator from All-Ways Access Elevators in Concord, NH. He selected a 1,000-pound-
capacity model with enough interior space to accommodate 4 adults or a wheelchair and a pusher. The mechanicals are small in size —2 feet by 2 feet— and it operates quietly using a chain and counterweights. Even though he's in good health, the elevator makes recovery from knee or hip surgery easy to accommodate.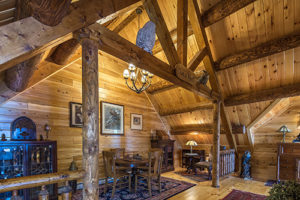 Owl's Nest Nook and Whimsical Creatures
One area that Ellis spends a good amount of time in is his Owl's Nest. This cozy space was created in the design as a loft area adjacent to the elevator housing. He decided that the space needed a theme, so he called upon a talented wood carver Jake Swanson to create the beautiful owls which give this space its character. When it came time to commission the otters that welcome guests to the Otter Creek Lodge, Swanson fashioned them to look as if they were just about to dive from the water's edge into the creek. Ellis notes that Swanson's attention to detail was so specific that the magnificent eagles that flank the fireplace in the lower level game room are male and female, with the female sized slightly large that her mate. The full-sized Sasquatch across the room—also carved by Swanson—keeps pool sharks on their toes.
Custom Finish Woodwork
Another detail that Ellis really wanted to get right was the extensive cabinetry and built-ins throughout the victorian log home —particularly those in the custom gourmet kitchen and the Octagon Room. In a fortuitous moment, he saw a panel truck from a talented finish woodworking company from his former home outside the local general store in Pittsburg. He learned that the owner of West Hartford Stairs & Cabinets, Andre Letourneau was also building a home in the area.  The company sent a team to measure precisely the kitchen and the octagon room. They returned to their workshop in Connecticut, built the cabinets and reassembled the components on site. The result was  stunning shelving cabinets and fireplace surrounds that enhance the Victorian furnishings perfectly.
Note: The Artist Jake Swanson may be reached via email: jakecarves42 at yahoo.com.
This slideshow requires JavaScript.