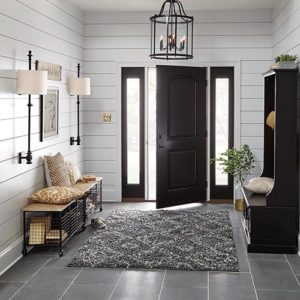 Entry ways provide your visitors with a first impression of your home. Whether dramatic or simple, elegant or rustic, the entry into your Katahdin Cedar Log Home needs to reflect your style. And because it's the transition between outdoors and indoors, it checks some functionality boxes, as well.
Get the lighting right
If your doorway has sidelight or transom windows, your entryway will benefit from some natural light. But it's also good to have some layered lighting to cast the right mood, as well as provide enough illumination to see where to place keys, packages, boots and coats. A combination of table lamps, wall sconces and an overhead chandelier or pendant light will ensure you have flexibility to set the stage for your entryway.
Make a place for stuff to land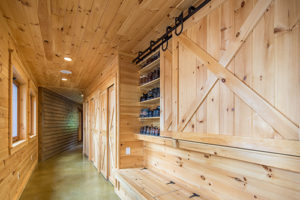 Rather than a simple entry hall table, consider something with drawers or other storage to tuck keys, gloves and other daily items away. One Katahdin Cedar Log Home customer added a shoe closet with benches to allow guests and residents stow shoes—a way to minimize dust, dirt and allergens from outside being tracked inside. A chair or bench for seating to remove boots at the door is also a great option.
Match the scale
A grand  hallway populated by a tiny end table makes your entry seem empty. Too many furnishings can make your entry feel cramped and crowded. Scale the furnishings to the size of the area to make the most impact. A bright hall area rug can set a welcoming tone that draws the eye in. If your entry is on the small side, hanging a beautiful mirror or some unique artwork can create a positive effect.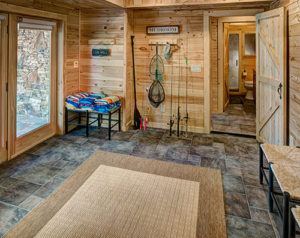 Consider sturdier flooring
If your climate includes wintry weather, you may want to select flooring that can handle the wet, snowy and sandy traffic. A ceramic or stone tile entry can make the transition to wood floors and keep wear and tear to a minimum. If you're looking for continuity with adjacent rooms, opt for luxury vinyl plank floors that can take on extra wear and look great.
Add your own local flavor
Displaying some local finds, such as collectible signage or memorabilia from the surrounding area can give your entry a sens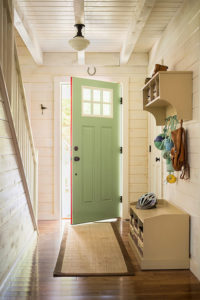 e of place. A collage of local antique photographs or a nod to a local cultural experience can enliven your entry and make it feel homey at the same time.
Don't forget coats!
Generally, a coat closet is designed to be adjacent to the entryway. If you're more casual, a coat tree or nook with hanging pegs can be a useful and stylish addition to an entry way. If rain is a factor an umbrella stand from a repurposed vase or pottery crock can further organize the area.