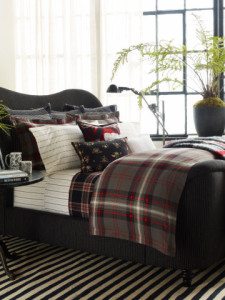 Right now we can't think of an interior theme that is more suited to log homes than Western Décor. This interior style is centered around bold colors, funky Old West artifacts, and a cheery mix of patterns. And it's not difficult to achieve, even when you live in the East or southern states. Plus, the American West can add charm and whimsy to your décor without breaking the budget.
Where to start?
If you're not sure about the way the look might translate in your home, start in just one room. An easy experiment location is a bedroom, w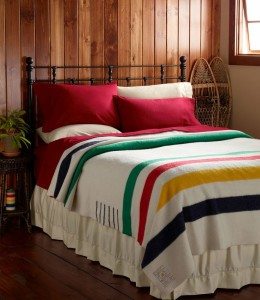 here bedding can transform a room inexpensively. One great option is Ralph Lauren's West Village Collection that incorporates some of the colorful themes from the Southwestern influences. This collection features bold plaids and stripes in easy to coordinate black, gray and red palettes.
Another easy and timeless way to bring the Old West into a room is to invest in a colorful Hudson's Bay Point Blanket from Maine-based retailer, L.L.Bean. These iconic, fine wool blankets were originally used by fur traders and still carry the black value points indicating how many buffalo skins they were worth. Take a tour around L.L.Bean's Home webpage for other bedding options for a western décor, including their Heritage Chamois Flannel Sheet sets.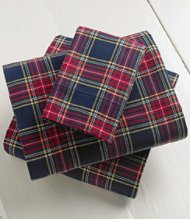 Additions—both small- and large-scale—can transform a great room into a welcoming American West sanctuary. Starting with great-looking leather sofas and chairs, accent them with bright pillows, throws and carpets featuring the bold designs of American Indian tribes. These bright reds, blues, and greens mix well with coordinating stripes and plaids. Add a bronze statue of a cowboy, cattle, buffalo or wolves to provide a visual centerpiece to your room.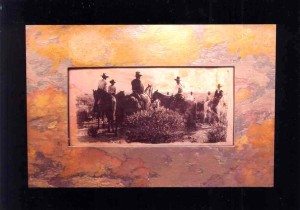 Other colorful western-themed printed pieces can be added at reasonable prices, including rodeo posters, wildlife or botany prints, old fashioned signs and even sheet music can all be framed or otherwise displayed. An interesting piece of art we found is Sierra Slate Images that transfers old West photographs onto slate for an amazing photographic reproduction on a unique medium. The Kickin' Cowgirls Website offers some charming rodeo posters among their merchandise.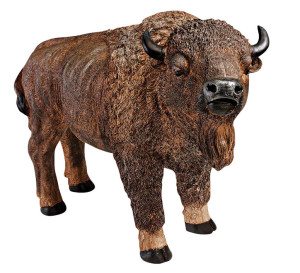 The American West theme can be an easy and fun way to decorate a new log home.