If your looking for some answers to your log home questions, you'll want to make a reservation for one of our Log Home Seminars. Each event will cover a wide range of information about designing your log home, selecting sites, financing and other questions. You won't want to miss important information about Katahdin's Energy Envelope System™, which meets or exceeds new energy efficiency codes now in place.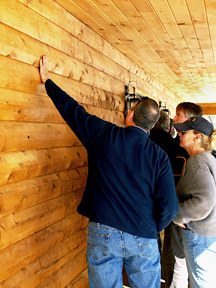 After the seminar, we'll take you on a tour of a nearby Katahdin Cedar Log Home, where you can enjoy the log home lifestyle first-hand. After the tour, lunch will be served and you'll have plenty of time to meet with experts from the area.
Space is limited and admission is free to the seminar, so to reserve your place contact Shannon Hersey [shannon.hersey@katahdincedarloghomes.com] or call 800-845-4533. Registration begins at 8:30 am. The seminar and home tour will run from 9:00 am to 1:00 pm, with lunch and individual meetings immediately following.
Saturday Oct  15    Concord Courtyard Marriott         Concord, N.H.
Saturday Dec 3    Courtyard Reading Wyomissing    Reading, Pa.
Click here for a preview of the Katahdin Cedar Log Home that guests will tour during the Reading Seminar.
If a seminar is not available in your area, visiting a nearby log home show can provide some unique benefits for prospective log home owners. Katahdin staffs our log home shows with experienced dealers from the area; offers multi-media presentations about log home design and energy efficiency; and gives you the opportunity to experience our log homes first-hand. Below is the schedule as of this writing— but it's subject to change so you'll want to check our Events page for updates.
Oct  28-30    Chantilly Log & Timber Home Show    Chantilly, Va.
Nov  4-6    W. Springfield Log & Timber Home Show    W. Springfield, Mass
Nov 11-13    New York/New Jersey Log & Timber Home Show
Nov 11-13    New England Log Home & Timber Frame Show     Manchester, NH