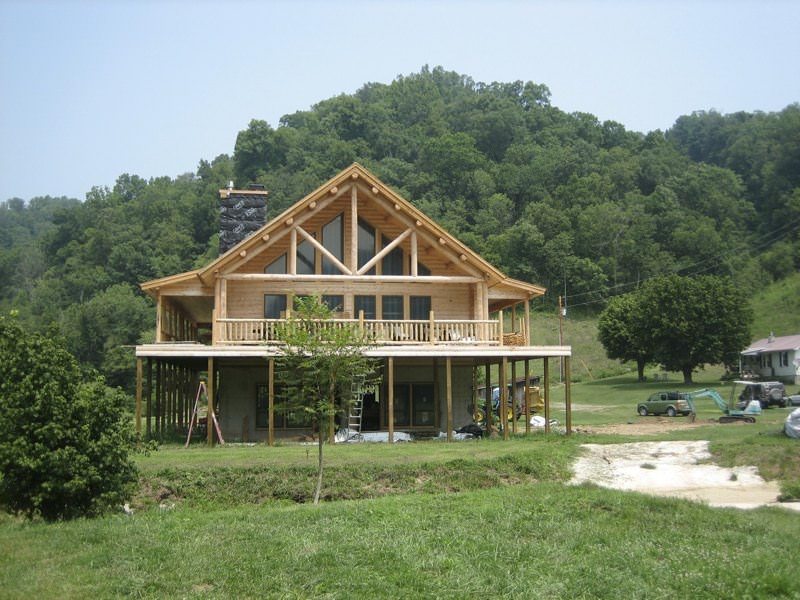 We've found two terrific locations for log home seminars this spring. The first one on Saturday, March 19, is being held at DelMonaco Winery and Vineyards in Baxter, Tenn., not far from Nashville. Our program there will include a wine tasting, a tour of a nearby beautiful Katahdin Cedar Log Home (right), along with all the terrific information about making your log home dream come true.
Our second spring log home seminar is on Saturday, April 2 at the Holiday Inn Mansfield-Foxboro in Mansfield, Mass. This is a centrally located venue just off of I-95, with a Katahdin Log Cedar Log Home [http://www.bungayloghome.com/final_photos.html] nearby featuring many design extras our customers enjoy so much.
Both seminars have registration from 8:30 – 9:00 am, with presentations, the log home tour and questions from  9:00 am to 2:00 pm, followed by a complimentary lunch. Space is limited at each seminar, so get your registration in early! For more information or to register for a seminar, contact Shannon Hersey at 800-845-4533 or drop her an email.
Spring Log Home Show On Tap
There are still one more opportunities to break the winter doldrums at your nearby log home show in Indianapolis, Ind. (See the link below for details.)
At the shows, our knowledgeable and experienced dealers in your area will be on hand in our beautiful Katahdin Cedar Log Home booth. Bring your plans, your questions, and your ideas! You'll learn how Katahdin is the leader in environmental manufacturing and construction practices. Our log homes are built from naturally sustainable Northern White Cedar and designed to save you fuel and money.
March 25-27    Indianapolis Log & Timber Home Show    Indianapolis, IN