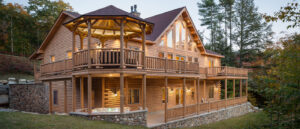 We're glad you asked! Logapalooza is Katahdin Cedar Log Home's seminar and open house event that brings together our favorite people— folks who love log homes! It's been three long years since we've been able to host a Logapalooza and we're excited to share our expertise with you. We have two Logapalooza events scheduled for this fall.
Come for the day or the whole weekend!
Logapalooza events are held in areas with multiple Katahdin Cedar Log Homes to view. Our base camp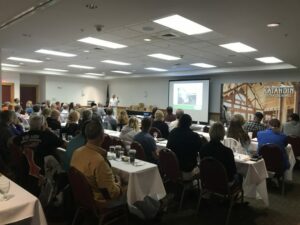 is a centrally located hotel in the area, where we hold early morning 8:30 am registration and distribute your Logapalooza materials. The morning log home seminar runs from 9:00 am to 1:00 pm and can include a guided tour of one local home. Complimentary lunch is served at 1:00 pm then you'll be able to visit multiple open houses within a short driving distance between 2:00 and 6:00 pm. See one or tour them all— it's up to you!
What's in the Seminar?
The Logapalooza seminar is designed to inform you about Katahdin's manufacturing process, Northern White Cedar benefits, energy efficiency, design tips and more! David Gordon, Katahdin Cedar Log Homes president and owner, will share his enthusiasm for log homes and the best way to design and build your own custom Katahdin Cedar Log Home. We'll have plenty of local dealers on hand for individual questions, as well as construction pros who can walk you through the building process.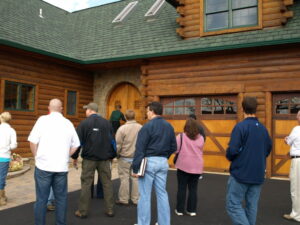 Spend Time with Log Home Enthusiasts
One of the reasons folks love Logapalooza is the spirited interactions with other guests— many past attendees have found answers to questions they didn't know they had. If you've never built before or if you're an experienced hand at construction, you're sure to learn something new at Logapalooza!
Our Fall Schedule is Open!
We're putting the finishing touches on two Logapalooza events this fall:
Oct 15      Lone Star Logapalooza, Palestine & Montalba, Texas
Nov 19     Western Maine Logapalooza, Newry, Maine
RSVP today as these popular events fill up fast!