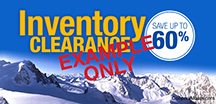 Winter is the time when many log home manufacturers begin promotions, including Katahdin. We have seen many of these marketing opportunities over the years from some of our competitors. Pricing is usually pretty attractive, until the bargain package arrives and you realize how much is still needed to complete the home.
Katahdin is recognized as providing a complete package for its customers (unless a log-only package is specified). Many of our customers are unfamiliar with the unique elements required for a log home. While the log stock walls are certainly an essential and important part of any package, the way in which they are milled, marked and packaged can make the on-site building process either a dream or a nightmare. Our computerized house line translates the design specifications into notched, drilled, pre-cut finished logs that are packaged so that only one bundle needs to be opened at a time, keeping the remaining bundles protected from the elements. There's no unpacking, sorting and reorganizing the whole package at once.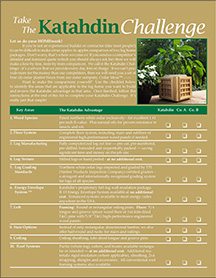 The species of Northern White Cedar offers many advantages over other log materials, including pine. Natural oils that help protect cedar trees from rot, insects and mold, also maintain a worry-free log wall requiring no extra application of toxic insecticides. Cedar also offers low moisture content, which Katahdin is able to further reduce through air drying and kiln finishing to an average of 12% at time of shipment. This results in minimal shrinkage and settling, a problem common with wetter logs.
We also take particular pride in including finishing components to keep the log home tight and sturdy. Katahdin full packages include: complete roof systems, spline joinery and overlapping trim for door and window surrounds, Energy Envelope insulation packages, ceiling sheathing of tongue-and-groove paneling, stairs, decking, doors and windows. Gables and dormers are provided with either full log or framed and log sided. We include high-quality, energy efficient Andersen windows and patio doors, and 30-year architectural roof shingles.
Additionally, many of these deeply discounted packages are the end result of an incomplete sale: essentially someone ordered the home then was unable to complete the purchase. While these "clearance sales" may provide cost savings, ultimately there is no opportunity to change the original plan. Katahdin's design team works with customers to prepare a design that may be exactly as pictured in the plan book or make significant changes to make it a uniquely individual home.
If a customer is still not sure about how a competitor stacks up against Katahdin's full log home package, we offer to review up to two competitors' detailed quotes so that a valid comparison between packages can be made. If you're considering an off-season purchase, we encourage home buyers to take the Katahdin Challenge, at no cost to you. We think you'll be pleasantly surprised!