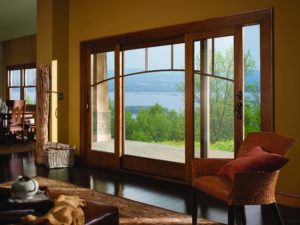 Windows are an integral part of making your log home beautiful. That's why Katahdin includes efficient Andersen 400 Series windows and patio doors in our packages. Some of our customers opt to upgrade to Andersen's A-Series because of the excellent performance and design options. We spoke with Melissa Meyers, Andersen Marketing Manager for Andersen's Architectural Series, to learn a little more about these beautiful windows. In the following months, we'll continue the conversation.
U-factor, SHGC & VLT Energy Star Ratings Explained
Before we start talking details, it's important to understand the three ratings included on Energy Star rated windows:
U-Factor measures the heat loss through the total window unit and typically ranging between 0.20 and 1.25. The lower the U-factor, the better the window resists heat transfer.
Solar Heat Gain Coefficient (SHGC) measures the fraction of solar radiation that is admitted through the glass both directly transmitted and absorbed and subsequently released inward. SGHCs range from 0 to 1, typically between .25 and .80. The lower the value, the less heat is transmitted through the product. If you are planning to use passive solar heat to harness the energy of the sun in the winter, the SHGC number will be higher to maximize your passive solar heating.
Visible light transmittance (VLT) measures how much light comes through a product (including the glass and frame). The higher the value, from 0 to 1, the more daylight the product lets in over the product's total unit area. Typical transmittance ratings range between 0.25 and 0.80.
Glass Options for Colder Climates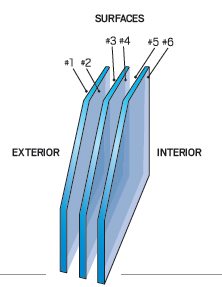 In addition to dual pane windows, A-Series windows are also available with triple pane glass which can offer a significant impact in colder climates. For example, Andersen A-Series double-hung windows with Low-E4® triple pane glass boast an excellent U-Factor of .26 and low solar heat gain and high light transmittance. Andersen offers two (2) triple pane glass options upgrades to improve cold weather performance: Enhanced and Enhanced with Heatlock® technology. These upgrades consist of special coatings applied to the inner surfaces of the panes of glass and help to keep heat in during the coldest months which results in lower U-Factor and SHGC performance. With Low-E4 Enhanced with Heat Lock, that same double hung window unit has an improved U-factor of 0.20.
Warm Climates Have Glass Treatment Options, Too!
For extra sunny areas where solar heat can become a problem in the summer, Andersen also offers a Low-E4 SmartSun™ triple-pane windows glass option that helps keep heat from escaping in the cold winter months and block radiant heat in the summer. SmartSun glass also helps reduce 95% of harmful UV rays that can cause fading. In warmer climates, you'll want to assess the solar heat gain (SHGC) rating to ensure your windows perform with less heat gain in the warmer months.
Putting It All Together
It's important to note that certain glass options for triple pane windows may be appropriate for different points on the compass in your home to maximize performance. For example, windows facing north may be best with Enhanced or Enhanced with Heatlock® technology coatings to help keep heat in and cold out. Windows in these locations may also want to have a higher visible light transmission (VLT) rating to allow as much light into these rooms. On the south side of your home, you'll want to consider SmartSun glass for windows with lots of summer sun exposure. For cathedral windows, a SmartSun glass option with higher UV ray reduction can help keep your furniture from fading.
Ranked 2017 Energy Star Most Efficient


All styles of A-Series windows are recognized as most efficient by Energy Star in 2017, including
• casement
• awning
• double-hung
• picture
• fixed and venting transoms
Visit andersenwindows.com for performance information.
Be sure to talk with your Katahdin dealer and the design department about recommendations for specifying Andersen A-Series windows to optimize performance. Next month, we'll explore new oversized window options from Andersen.