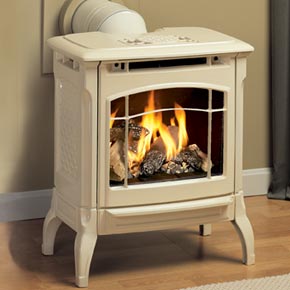 The instability of heating oil and electricity costs in terms of heating a home have encouraged many log home owners to consider supplemental or alternative heating sources. Wood stoves, gas stoves and pellet stoves have been undergoing innovative design upgrades, offering log home owners many more options with tremendous convenience.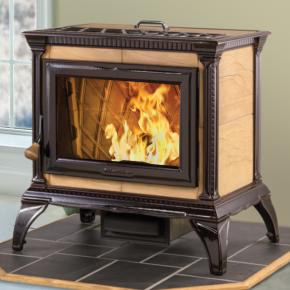 Gas Stove
For style, warmth and ease of use, Hearthstone's Stowe model gas-fired stoveoffers an attractive supplemental heat source. The Stowe is available soon in fashionable off-white bisque enamel (see photo left), along with three other more traditional colors. The stove offers a heat refractory system that maximizes the radiant heat from the stove. Another neat practical feature is the Pro-Flame electronic ignition, which shuts off when not in use, and a built-in battery back-up which allows operation when the power is out.
Pellet Stove
Pellet stoves have come a long way since their emergence on the marketplace a few years ago. Pellets are much easier to locate and quality pellets provide a clean burn with little ash residue. Some of the drawbacks to pellet stoves have been addressed in Hearthstone's Heritage Pellet stove (right), including a large 160-square inch viewing glass to increase the visual appeal. Hearthstone has also quieted the operating fan for a less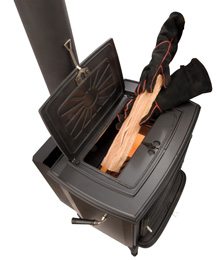 intrusive heat source. (Pellet stoves do require electricity for operation, though.) The Heritage offers some good looks with either grey soapstone or sable-colored sandstone options with brown or black enamel trim.
Top-loading Wood Stove
Anyone who's owned a woodstove understands the benefits of a top-loading stove like Jotul's Rangeley model in cast iron or steel sides. The Rangeley offers a high efficiency rating and produces enough heat to heat a 2000-square-foot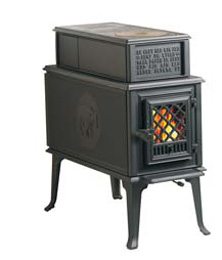 area. The lid also has been designed as a fully functional cook plate.
Classic Looks & Modern Technology
Jotul has also reintroduced its most popular classic style Black Bear Stove. The stove has been updated to provide 75% efficiency but provides a nostalgic look. The front plate carries the Norwegian inscription that translates to "I built me a flame late one night. When day is done, God will my flame never die out." The Black Bear is an attractive and space saving stove for a more rustic setting.
Wood-Fired Cookstove
For the purist who enjoys modern sensibilities, Hearthstone has introduced a modern wood-fired cookstove, the Deva 100 (below). The design offers ease of operation, and holds up to 32 pounds of wood as long as 17inches. For the ambitious chef, the oven is spacious enough to cook a 20-pound turkey and has a center-mounted thermostat for easy visibility and precise temperature control. Available in a classic black enamel.