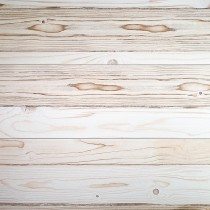 If you're like most log home enthusiasts, you LOVE the look of wood. However, there are some places where wood is not the best choice, where water or heavy traffic could be problematic. One great solution—that's also trending in the design world—are wood-style tiles. Available in warm woodsy tones or stylish colors from natural palettes, these tiles can take over  duty in moist or wet locations in kitchens, bathrooms and mudrooms.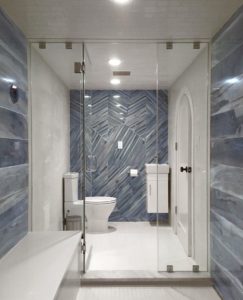 Many of these wood-style tiles come in a "plank" configuration, much like an expanded version of the popular subway tile. Sizes range from 4" to 8" wide and 24" to 40" long. When applied horizontally in a shower area they continue the log format and provide a pleasing transition. For a bolder treatment, install wood-style tiles in a vertical or dramatic herringbone pattern.
As far as colors and designs, the options are many. Traditional warm wood styles offer the look of cherry or oak. Many companies feature interesting distressed or driftwood styles, like those found on South Cypress's website .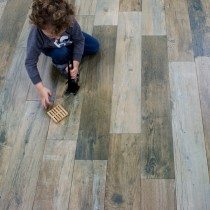 Tile Bar is another vendor that offers a "Woods of the World" collection with unique wood styled planks with both matte and polished options. Their Brazilian tiger blue transforms a master bath when paired with cream fixtures (see above right).
In the kitchen, blue cabinetry and themes are a popular look. Pair a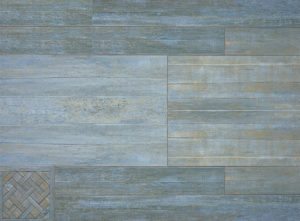 traditional robin's egg blue with the grayed and blue steel tones of Tile Bar's Cerpa Provenza. Or try the Barrique Series in Blue for a distinctive blue and wood grained plank style tile from Italy.
Or if cranberry or cream colored cabinets are more your style, select a pale driftwood or medium toned Bodega Vineyard style for a dramatic kitchen that provides long-lasting good looks.We can't wait to see the Katahdin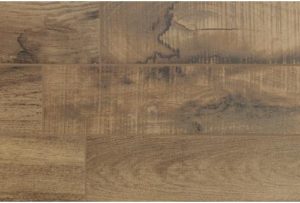 Log Home kitchens and bathrooms tiled in these amazing porcelain planks!