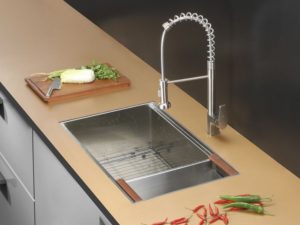 Everyone is talking about the new workstation sinks that have taken kitchen design by storm! These sinks are fashioned to hold cutting boards, colanders, soaking vessels, and drain grids with interchangeable levels and configurations to enhance your sink work. Two companies have developed workstation sink systems featuring their stainless steel undermount sinks.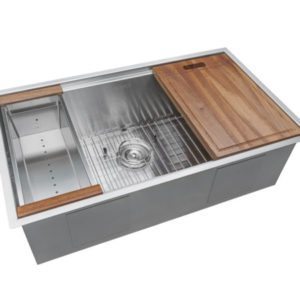 Ruvati Accessorizes Their Workstation Sink
The essential key to these workstation sinks are small ledges that are built into the sink to hold slide in accessories. Ruvati's Undermount Ledge 16 Gauge 32″ Kitchen Sink Single Bowl sink features "tracks" on the front and back edges that holds a selection of accessories to make your sink a multipurpose work station. Available accessories include a sapele (African mahogany) cutting board, sapele trimmed colander, bottom rinse grid for easy draining and protection, roll-up stainless steel drying rack, and unique deep basket strainer. The sink itself is crafted from thick 16-gauge 304 stainless steel featuring a subtle slanted bottom with drain grooves to channel water to the drain. At 10 inches deep, it's large enough to hold oversized pots. The outside of the sink is padded with soundproofing and rubber seals, with a full 1-inch lip for secure mounting.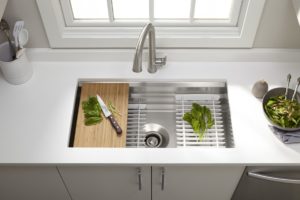 Kohler's Prolific Sink has Triple Track Levels
Kohler's Prolific stainless steel sink has tri-level track options to stack and slide accessories into arrangements to fit personal needs. Accessories included with the sink are a bamboo cutting board, two multipurpose grated racks, a colander, and a washbin. Kohler's workstation is a little deeper than the Ruvati at 11" and offers Silent Shield sound absorption technology. While this sink works with all counter thicknesses, 3-centimeter thick countertops are ideal for seamless cutting board operation. For improved drainage, this Kohler model features a beveled edge surrounding the drain to direct water flow.
If you're not sure which workstation sink is the best for your kitchen, check with your local supplier to see if they've got a demo model set up to try before you buy.