If you've got questions about your dream log home, we've got answers—including the newest energy saving requirements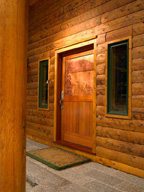 for homes in your state. Our experts can help you with all the aspects you've been wondering about, both big and small, as well as how we can work within your budget and price to meet energy requirements in your area.
Bring your sketches, your notes and your ideas, and we can work with you to bring your log home visions to life!
Date Event Location
Oct 16-18 Hartford Log & Timber Show Hartford, CT
Oct 23-25 Chantilly Log & Timber Show Chantilly, VA
Oct 31 Home Buyers Seminar Gaithersburg, MD
Nov 7 Home Buyers Seminar Waterbury, CT
Nov 13-15 Branson Log & Timber Show Branson, MO

Two Home Buyers Seminars This Fall: Maryland and New England
You won't want to miss the Home Buyers Seminar at the Gaithersburg Washingtonian Center in Gaithersburg, Maryland, on October 31!
If you're in New England, then the Home Buyers Seminar at the Waterbury Courtyard Downtown Waterbury, Conn., on November 7 might be an option to consider. Take a peek at the home we'll tour here. Check our events page for updates and news about other seminar locations.