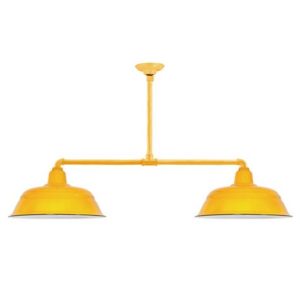 Kitchen designs are becoming sleeker and more individualized—especially in log home designs. While super modern, contemporary kitchen designs may seem like a mismatch for your Katahdin Cedar Log Home, we've found seven trends that may translate well in your custom kitchen.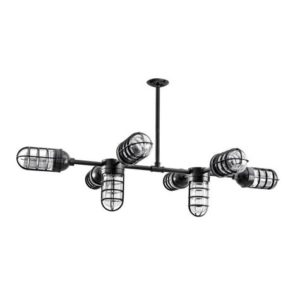 Linear Lighting
It seems like the pendant light has run its course. New kitchen designs feature more linear lighting designs. By linear, we mean that the fixture has a strong horizontal element, often connecting two lights on a single bar. Select metal tones that contrast with other metals in the kitchen for a statement fixture over your center island. Try these options from Barn Light Electric: the Mercury (right) or the Signal (left).
Enhanced Use of Color
Color is playing a huge role in 2019 kitchens. Cabinetry is darker, with tones of charcoal, midnight blue and matte black. If that's too much, opt for two-tone cabinets with darker lower cabinets and lighter uppers. Color is also making an appearance in statement ranges, with a bold pop of color and elegant handles and controls. Not ready to make the leap? Try smaller pops of color with island seating or open shelves with colorful curated objects such as pitchers, bowls and glassware.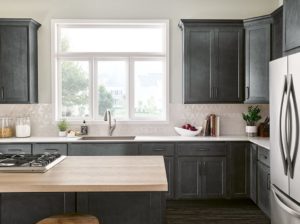 Statement Stone Counters & Sinks
Counters are expanding their decorative influence. Designers are continuing countertop surfaces up backsplashes and topping it all with a narrow decorative shelf. The result is a seamless beautiful effect. Add a standout farmhouse apron style sink in soapstone or other durable material to enhance your beautiful counters. Some designers are opting for slimmer stone countertops like WilsonArt's Thinscape countertops (left). Just ½ inch thick, they slim down counter impact to create a more balanced look.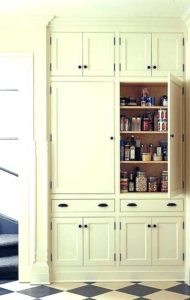 Storage Walls
This kitchen design trend takes the place of a butler's pantry and is typically paired with a large kitchen island and one wall of just lower cabinets and countertops. They're great for hiding kitchen clutter and storage for everything. They can open up kitchen space by reducing the upper cabinets that can close the kitchen in. In place of those upper cabinets, consider open shelving.
Forged Iron Shelves
We love this idea for log homes! The dark forged iron framework can hold reclaimed wood shelving and display pottery, plants or just about anything to spice up your kitchen. Repeat the rustic appeal with other dark metal accents throughout the kitchen.
Mixed Metals
Once a kitchen design no-no, mixing metals adds interest to a kitchen dominated by stainless steel. Pick a palette of metal tones starting with a statement kitchen pull down faucet in shiny brass or gold-tone. Pick up a different metal tone in light fixtures and cabinet hardware, with a third option for cabinets.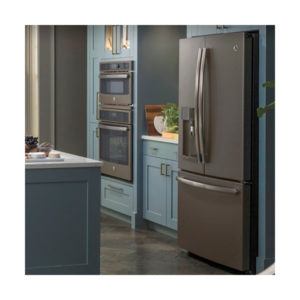 Statement Appliances
Though the statement stove is the next big thing, you may also want to opt for a different color for the remainder of your kitchen appliances. Instead of traditional stainless, take a look at new options available with GE's Premium Finishes, including high gloss black stainless, matte black and matte slate (at left). Selecting a non-traditional finish will transform your kitchen. For the statement range, check out these Hestan appliances for an elegant snap of color.
Pick one or blend two or more trends to make your Katahdin Cedar Log Home all your own.