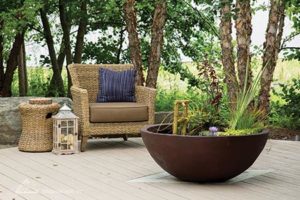 Your backyard space can have an added dimension with the addition of a water feature. From a simple fountain to a more elaborate garden pond, water adds a relaxing component to outdoor entertaining. There are several ways to add a pond to your Katahdin Cedar Log Home yard terrace or porch, no matter where you're located. We checked in with the experts at Aquascape, a leading manufacturer of water gardens, water features, and ecosystem ponds in North America, to learn more.
Patio Ponds
These small water features are a great way to get started. Patio ponds feature a small, slate gray container, a bamboo fountain and an energy efficient water pump. Set up is easy and you'll be able to customize your patio pond with a wide variety of plants.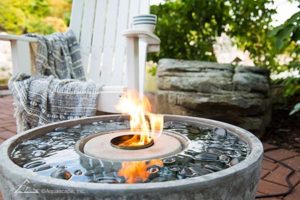 Fire Fountains
Adding a fire fountain offers a unique focal point to your backyard entertaining. Aquascape's fire fountain features a durable stone-like bowl with a water ring fountain and central flame container that fires a paraffin flame. The fire fountain comes in three sizes and is easy to assemble. Just add your own stones and paraffin fuel.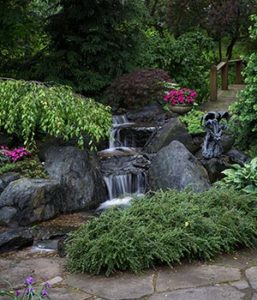 Pondless Waterfalls
This recirculating waterfall without a pond provides an easy-to-maintain and attractive addition to outdoor settings. The system pumps water from a large in-ground reservoir up to the waterfall spillway and over a series of rock formations. The water tumbles down to a bed of rocks and stones, where it refills the reservoir. These waterfalls offer children and pets a place to splash in the water, with little maintenance. This water feature can also be expanded to include a pond if desired. These waterfalls can be tucked near your front door to greet visitors or encompass a long and winding series of waterfall terraces to take advantage of sloping terrain.
Water Gardens
Water gardens can be any size and can feature a wide variety of plants, including waterlilies, reeds and other water loving species. These water features can provide years of enjoyment and create a welcoming and interesting addition to your home's landscaping. If you're thinking of adding a pond, it might make sense to set aside some stones or significant rocks you unearth on your home site, or from your stone mason's supply. Some elements that will be needed to make your water garden a success may include filtration, water pumps, LED lighting, and plant containers. If you're a novice, the folks at Aquascape can get you started with plenty of great advice, how-to videos, and referrals for pond builders and maintenance companies.
Koi Ponds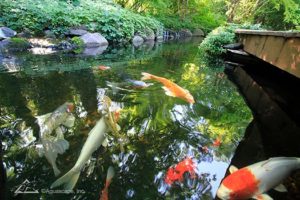 Some pond owners add colorful fish, such as Japanese koi or other fish. These fish can add an interesting splash of color and movement to your water garden. If you're interested in adding fish to your pond, you'll want to check in with local authorities about adding non-native or exotic fish. Some states have strict rules about adding species to bodies of water to avoid the spread of invasive aquatic species. Your pond builder should be able to advise you of local regulations.