One feature of many Katahdin Cedar Log Homes is a walkout basement. These spaces add great living space for minimal extra costs. Because of the potential for dampness, walkout basements have specific needs for flooring: easy cleanup, water resistance, and good looks. Below, we've pulled together two great solutions for walkout basement floors.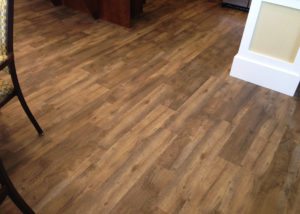 Luxury Vinyl Planks — Often referred to as LVPs, these easy to install and durable flooring planks offer a wide array of patterns and effects, often taken directly from nature. Check out this story about one LVP manufacturer who uses new technology to make their product more natural looking.  Originally designed for commercial uses, residential LVPs offer several vinyl thicknesses ranging from 2mm to 3mm with the thickest vinyl layers lasting longer. Most have a longevity of about 20 years. The foam backing offers an easy feel for feet and can provide some acoustical dampening effects. And because the planks are easy to pop out and replace if damaged, they're a good choice for walkout basements.
Acid Treated Concrete — This flooring solution is an especially attractive way to finish the concrete floor of a basement. It does take some attention to detail by the contractor, but the end result is a glossy, rich surface that can withstand the wear and tear in a basement area. We checked in with Katahdin dealer Mark Dirago, owner of Quality Home Builders of Maine, to see how the technique works in practice. "It's important to plan in advance to use this concrete finishing technique," Dirago noted. Here are his steps for creating a beautiful polished acid washed concrete floor: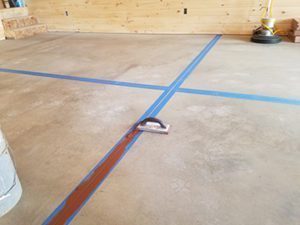 Get the right concrete. Order your concrete with no fiber mesh added. Your concrete contractor will need to use wire mesh instead.
Pour the concrete floor and power trowel smooth. Your contractor will want to cut control joints as usual. At this time, a pattern could also be    cut. Let the floor cure and dry.
Keep the concrete floor clean and covered. Avoid dropping glues or chemicals on the unfinished floor. Protecting the unfinished floor also includes keeping lumber or other materials from being stacked on the floor. Even a sheet of plywood can form a distinct mark on the concrete.
When you're ready to finish the floor: Clean the cut lines, then tape on either side of the cuts and fill with sand-style grout.
Clean the entire floor. Once the grout is dry use a floor buffer with a scour pad and mild soap and water. Once clean, use the buffer fitted with a sanding pad to remove any imperfections. Clean the floor again using a shop vacuum and a dry mop to spread out any remaining moisture. Allow floor to dry completely.
Treat with Lithochrome® Chemstain® made by LM Scofield. This treatment is free of VOCs and provides a rich patina to concrete floors. The product is available in 8 colors and can be applied with a hand sprayer. Dirago uses a circular motion to apply the spray then continues spreading the acid treatment with an 18-inch push broom again with a circular motion. Let the floor dry overnight.
Neutralize the acid stain. Use Tri Sodium Phosphate TSP or baking soda dissolved in a bucket of water to neutralize the acid. Dirago returns to the wet mop to spread the alkaline water over the acid washed area. Use a shop vacuum to remove most of the water, then smooth streaks with a damp mop.
Apply another coat of stain if needed. Dirago said "If you're not getting the results you're looking for, the floor can be buffed out and the process restarted."
Seal the floor. To protect the finish and provide long lasting durability, Dirago uses a marine grade clear urethane coating, Sherwin Williams' Armorseal® Rexthane 1®, which is also VOC compliant. This provides a high gloss finish to the floor. Dirago applies a minimum of 2 coats to the floor. Once finished, the floor should be protected during the remaining construction process.
No matter how you finish the floors in your walkout basement area, no-fuss floors make it easy for family members to relax.