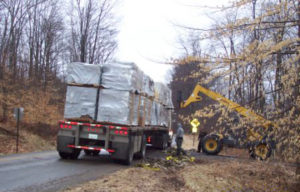 When your foundation and infrastructure are close to complete it's time to schedule and prepare for log delivery day. It's an exciting moment and one that your dealer will coordinate well in advance to make sure all goes smoothly. We spoke with one of Katahdin's most experienced log home kit delivery truck drivers, Mike Hanson, for his tips on making your log delivery day easy and problem free. Hanson started out at Katahdin 24 years ago delivering cedar fencing at first, then switching to log home kits. He's delivered as far west as Idaho and Colorado, and all points in between. "I've been filmed probably more than any other Katahdin employee," he chuckles, because the unloading process is an exciting time for many owners.
Delivery Advance Coordination
Before your order is loaded on the truck, your dealer will need to assess the access to your building site location to determine whether the delivery truck will drive directly in or whether the semi will be offloaded onto a smaller truck at a remote site to transport the logs to their final spot. Factors to be considered for truck access include:
Road clearance — Once off the main road, your driveway or access road needs to have a minimum of 13-1/2 feet wide and 9-1/2 feet height of clearance from trees, branches, and other obstructions.
Road grade — If the access road has too steep of a grade a separate staging area will need to be identified for offloading.
Curves, extreme dips or bridges — If your access road has hairpin turns, dramatic ups and downs or a bridge that's not rated for heavy duty loads, a smaller truck will need to be used.
Your dealer will walk through the access road to determine whether the semi-trailer can navigate it without hazard. "Many times, when I deliver for a dealer I know, he'll tell me straight up whether we can get there or not," Hanson said. What he does not want to happen is the get the trailer or cab stuck in a bad spot. "I want to make sure I can get in, unload and get out without problems."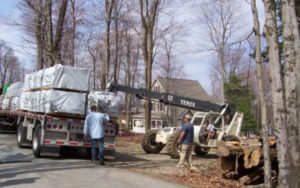 Clear Directions
Because most building sites do not have physical addresses, it's important for the homeowner or dealer to provide accurate, detailed directions to the building site or off-loading location. Try to use route numbers, street names and recognizable landmarks to help your driver find your spot. Make sure that any bridges have clearance along the route understanding that the most direct route with a car may not work with a fully loaded semi-tractor trailer.
Payment Due Before Unloading
Hanson notes that it's important to have payment ready on log delivery day: in the form of a bank check or completed via wire transfer before he can unload. "Most folks should allow several days for a wire transfer to be completed before the delivery date," Hanson said. "There's nothing more frustrating than to have to wait for the check."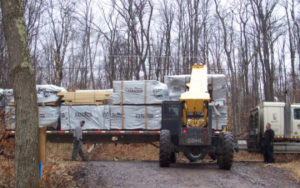 Let the Unloading Begin!
Once Hanson has the truck positioned at the unloading location, a rented forklift machine will unload the wrapped packages of logs and components from the truck. Equipped with a 20-foot boom with forks, these nimble machines can make quick work of a semi-tractor load. To keep the load balanced on the trailer and ensure a safe transfer of these heavy packages, unloading will follow a set order and procedure. "Once we begin, it will take about 2 hours to unload my truck completely," Hanson said. "The boom forklifts really make for quick work."
Once your Katahdin Cedar Log Home components are unloaded, they can remain securely wrapped against the elements until construction begins.