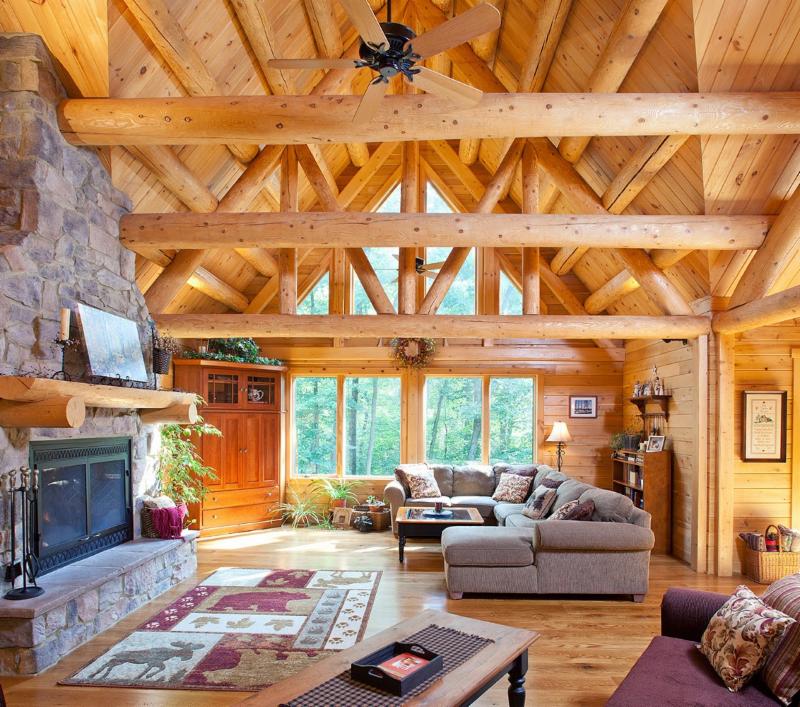 A common objection to the open and airy spaces found in Katahdin Cedar Log Homes is the challenge of heating rooms featuring cathedral ceilings. Many folks experienced the uneven temperatures and high-energy consumption from architecture of the 60s and 70s when cathedral ceilings were popular.
Log home designs have come a long way since then and new technologies can help you enjoy the open feel of Katahdin's beautiful purlin and beamed ceilings without the downsides many folks fear.
First, a little history: beginning with the Victorian era, homes were constructed with high ceilings to keep them cooler in the summer months. Heating was pretty inefficient in those days, so the loss of heat in the upper part of a tall ceilinged room wasn't much of a concern.
As heat systems improved and became more costly, tall ceilings were lowered in ranch-style homes, with an occasional cathedral ceiling offering a feeling of spaciousness in these smaller scale tract homes. One of the reasons that cathedral ceilings have persisted in log home designs is the soaring feeling they impart along with open plan designs that make for a brighter and more attractive space.  They provide drama and interest in log homes that is unmatched in most other styles of homes today.
However, there are log home enthusiasts who still are reluctant to commit to a cathedral ceiling for fear of rising fuel prices and other downsides. However, with the right approach one can still enjoy the soaring aspects of a cathedral ceiling without paying a hefty heating bill.
Start with efficiency
The technical term for the effect tall ceilings have on heat and air conditioning is stratification. This means that hot air will tend to rise and collect near the top of any closed container (like a home) while cooler air will naturally sink to the floor.


The first important step to take with a cathedral style room is to ensure that the insulation is adequate and that it is installed and sealed properly. With Katahdin's Energy Envelope System, ensuring the proper amount of insulation is easy and sealing the various layers within the wall ensures a tight envelope.
Select windows that will enhance the passive solar heat gain in the winter, while deflecting UV rays during the summer, when it can get too warm.  A combination of double- or triple-glazing on windows will provide the right combination of efficiency to maintain comfort in the great room area.
Opt for efficient heat and air conditioning systems to provide the maximum power without breaking the bank. Your HVAC contractor should have some great solutions for making the cathedral and other living areas of the home comfortable and balanced.
Keeping the Heat Low in the Winter
In this instance, we're not talking thermostats, but the location of the heat to best warm the occupants. Probably the easiest and most
cost-efficient way to go is including a radiant heat system in the floors of rooms with tall ceilings. Because the floor is heated rather than the air, the effect is warmer for the people in the room.
Hot water systems can provide a broad array of benefits in keeping fuel costs down. The type of hydronic (water based) furnace/boiler is one variable that can maintain comfort in a home. Automated pellet boilers, when engineered into the home at the start, are a great way to go, and can supply hot water for both heating and domestic water. Other hydronic water systems use natural gas or propane and also can be highly efficient means of heat.
Solar hot water systems can also provide the hot water to heat rooms through radiant floor systems. Another option that becomes more practical when building new is putting in a geothermal system, which draws heat from the earth to warm water that is then circulated through the home. Geothermal systems can also be set up for air conditioning in the summertime. Geothermal systems are often paired with water to air heat pumps for efficient heating and cooling.
If electricity is a more appealing route in your area, consider a combination of photovoltaic solar panels and electric air-to-air heat pumps to keep interiors comfortable. With a downward trend in recent solar panel pricing and improved capacity, solar panels are ever more attractive for homeowners hoping to avoid the roller coaster ride of fossil fuel pricing.  Federal and local incentives for alternative energy systems in a home can make these options extremely attractive.
Moving the heat lower
Another approach to evening out the heat/cool stratification effect in a high-ceiling room is to mechanically move the hot air from the top to the bottom of the room. This might involve efficient heat capturing ventilation fans installed at the top of walls or as part of a fireplace structure. These fans would pull in heated air and recirculate it our through air registers located low on the wall. Because of the energy envelop design of Katahdin's wall system these recirculating chases can be installed with minimal disruption to appearanc
e.
Another solution is to install programmable ceiling fans that would push warm air down in the winter and provide cooling circulation in the summer. Traditional paddle fans are a fine solution, while new designs such as the Haiku fan are super quiet, programmable and remote controlled for smart phone app versions. These sleek units are available in three sizes, 52″ 60″ and 84″ with six finish colors and four hardware options. They also take care of lighting with super efficient LED lights.
Another nifty option that offers a powerful and more directed antidote to stratification is the Airius Air Pear fan. This has a slightly more industrial look – both original model and a sleeker can-shaped version- my not be suited for all decors. Instead of the broad area approach that a ceiling paddle fan takes, the Air Pear can redirect warm air in vertical columns. This keeps the air in motion and avoids heat buildup in the upper areas of the cathedral ceiling.
While there are some challenges associated with cathedral ceilings and comfort levels, any combination of the options identified here can overcome stratification and provide for a comfortable and energy efficient solution.