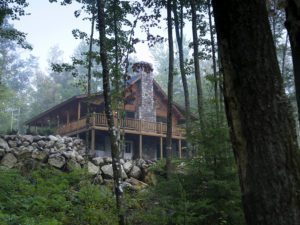 Many Katahdin Cedar Log Homes feature fireplaces or wood stoves to add to the cozy character in the great room or family room. Many options are available for the interior looks and dimensions of your fireplace or wood stove, but don't neglect the chimney! On your homes exterior, often the chimney is an element that attracts the eye immediately. Why not make your chimney as beautiful as the rest of your home?
There are several options available for the chimney structure, depending on the type of stove or fireplace. Most often we find masonry chimneys in log homes, with either one or two flues. If your chimney is metal, and you're looking for a more traditional look, consider a chimney surround that offers a faux stone or brick façade to conceal the metal stack. You'll need to have a weather shield cap to keep the elements from entering when the flue is not in use.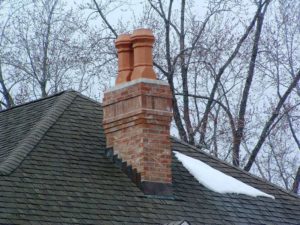 Another type of pre-built metal chimneys or "stick" chimneys comes with a chase structure that disguises the metal chimney using a masonry or log siding finish. These chimneys can be spruced up with a decorative chimney shroud, or cap. These can be constructed from copper or clay with several classic design options available.
Masonry chimneys are constructed from cement blocks, stone or brick, with clay flue tiles or metal piping inside. It's essential that you alert your design team about your plans for masonry or stone, as their weight will need extra reinforcement in the floor and/or foundation. This extra reinforcement is often why folks end up opting for a masonry clad or fabricated stone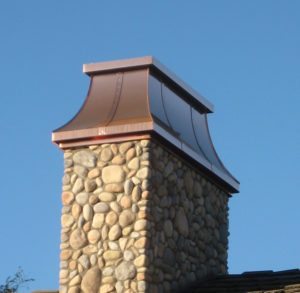 chimney, which still provides plenty of long-lasting good looks. Remember, except for your chimney sweep, your chimney will be viewed from a distance, which makes a manufactured product easy to choose.
Masonry chimneys do have some design options to add style to the roofline, including a flared top, curved caps, chimney pots and other decorative elements. It's a great idea to have a conversation with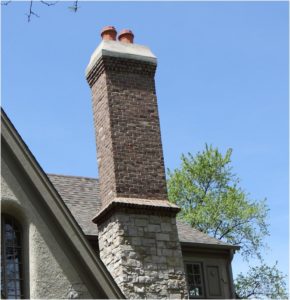 your masonry subcontractor to see what styles and designs might enhance your log home. They will also have ideas for sourcing local stone or bricks to keep costs down.
We found some good online resources for chimney accessories. One site that offers some great products is Woodland Direct. The blog on Creative Faux Panels also offers some great chimney design upgrade ideas.
You can also check out our photo gallery to see how current Katahdin Cedar Log Home owners customized the look and feel of their indoor and outdoor chimneys and hearths.