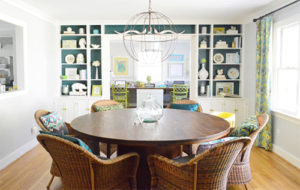 Many folks have gorgeous collectibles they want to display in their new Katahdin Cedar Log Home. Whether your passion is kitchen tools, dishes, ceramics, textiles or framed art, here are some ideas to share your collections with your friends and family. These beautiful and interesting items can add your own personal flavor to your new home!
Glass-fronted Built-ins
If your collectible is delicate or fragile, Special built-in cabinetry can display these items safely. Make sure they're lit inside to allow folks to see and enjoy. An added bonus: less dusting needed.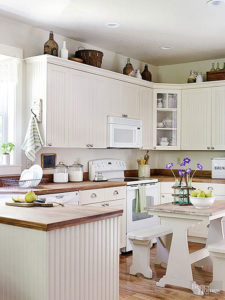 Floating Shelves
These simple shelves are great for interior walls that may be finished with traditional sheetrock. You'll want to design them with a raised lip on the front and sides to keep items like picture frames or colorful majolica platters from slipping off.
Top of the Cabinet
If you're planning tall kitchen ceilings, you may want to leave a small space at the top of cabinets to display larger collectibles, like ceramic art, kitchen tools or Depression glass. Here, too, lighting is key to keep your treasures in the spotlight and visible.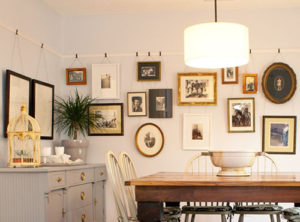 Picture Rails
Log homes often have their own challenges for hanging art. One way to avoid adding unnecessary nail holes on your log walls is to install a picture rail along the wall you plan to hang artwork. Place the piece of molding about 1foot from the ceiling, and then use picture rail hooks like these to suspend artwork from the rail. You may want to substitute a cord or brass chain for the utilitarian picture wire that is usually included with framed art.
Create a Display Space to Fit
If your collection includes large sculptures, paintings or something that needs its own space, make sure that space is included in your design. These specialized spaces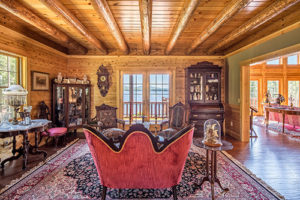 might include a small niche on a stairway, a specific corner with appropriate recessed lighting, or an expanse of wall that is free of windows. For some pieces, it may work to suspend them from the ceiling—like model airplanes or mobile sculptures. Wherever you decide, just make sure your plans are noted in the design, so that lighting can be wired in and weight-bearing suspension hooks can be installed.
Creating a Home for a Lifelong Passion
One customer, Steve Ellis, designed his entire North Woods home to showcase his extensive collection of Victoriana. As an antiques dealer for many years, this spectacular log home was built to display his most treasured and unique pieces, with whimsy and style.