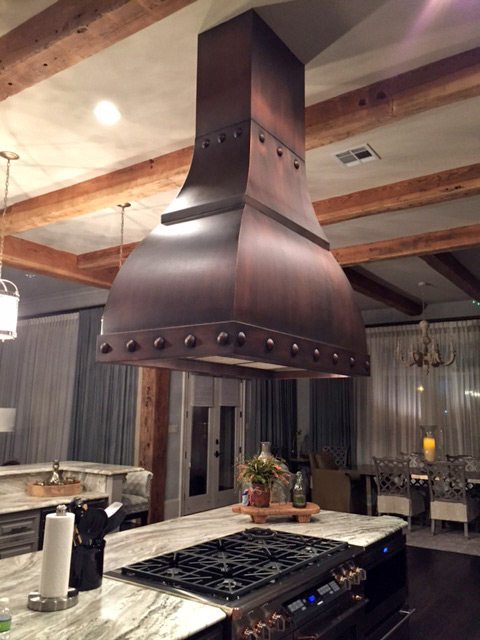 Copper is a prized and useful finish that mates well with rustic log home décor. When we saw these custom copper kitchen hoods, it seemed like a perfect match!
Modern kitchens include large surface areas—countertops, appliances and cabinets—that can work together or conflict in an overall look. Because log home kitchens tend to be traditional or rustic in design, the high-end stainless appliances can dominate the kitchen décor.
A copper kitchen hood is one way to modify the stainless parade with a stunning centerpiece in a rustic styled kitchen.  Pair with the copper toned or matte black appliance options and the combination of bold colors can enrich the kitchen space.
There are a number of companies specializing in custom copper and other metal hood designs. One family owned company, Copper Kitchen Specialists in Pewaukee, Wisconsin, offers a broad array of handcrafted copper hoods. The owner, Adam Torgeson, explained his ability to custom design the hood's shape, size, color and even the decorative apron panel. "We can do anything, if the design is simple," he said. "We once had a design combining canoes and wildlife for a customer in Maine."
With dramatic curves, flares and finishes, copper range hoods can take whatever shape you desire to house the exhaust fan, lighting and filters to complete the appliance. They offer three different textures: smooth, soft hammered and heavy hammered. The colors range from natural bright copper, antique copper and oil rubbed bronze. The surfaces are treated with a heat-bonded lacquer to maintain the original color over time and allow for easy cleaning. "Clean up couldn't be simpler, just a soft cloth, soap and water," Torgeson said.

As far as sizing the fan, Torgeson believes that the bigger the better for exhaust fans, though some areas have CFM limits for hood fans. Copper Kitchen Specialists includes shipping in all pricing. Local service contractors can install the hood on-site. "We really like to maintain a transparent approach to our custom work," Torgeson noted. Order lead-time is about 7 weeks.
Ready for more ideas? Browse our kitchen design gallery!