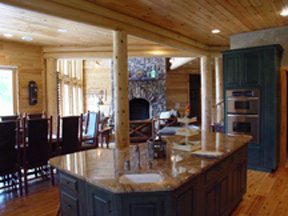 Many people are re-examining the amount of space they need—especially if you're downsizing toward retirement or trying to cut long-term costs. Let's face it, a larger home has larger costs associated with it beginning with heating and air conditioning to taxes and maintenance. To make a shift to less square footage, many people are taking a second look at their interior spaces, and designing for their present reality.
One example is the formal dining room. Once a necessity of a home's design, the formal dining room has gone the way of the front parlor, where only guests were allowed to sit. Today's more casual lifestyle, far-flung families and busier schedules have worked a transformation on the eating areas of a home.
Tips for planning multi-purpose eating areas
Activities. Sit down and envision all the various activities that might occur in a combined eating area. Families might use table space or counter space for homework, projects or crafts work. The table might also be a spot to perform household chores, such as folding laundry.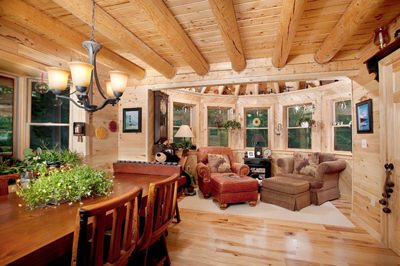 Noise. If your eating area is combined with the living area or great room, entertainment may compete with activities requiring more quiet, such as schoolwork or household accounting. If your activities include a range of noise levels, consider ways to partially close off areas with pocket doors or glass-paned French doors that allow visual sight lines while providing quiet options. If noise is not an issue, opt for a more open room arrangement with a pass through space from kitchen to living area that will set up visual boundaries while allowing activities to flow from one area to another seamlessly.
Meals. If your family is accustomed to regular large gatherings, you'll want to ensure that your eating area can include a table with multiple leaves, and the ability to circulate around the table with chairs occupied. One space-saving option is to incorporate a window seat with cushions at regular seat height. That way more chairs can be arranged around a table with guest seated at on end on the window seat. If your meals are spread out over several hours with just a few people sitting at a time, you may want to forego the large table for a bar seating arrangement that is an extension of the kitchen area.
Table configuration. Round tables are the most space saving and can add a visual variation to the horizontal aspects of log homes. Many round tables offer expansion options creating an oval shape with additional leaves. If open space is more important than seating, a drop leaf table might be an option to consider.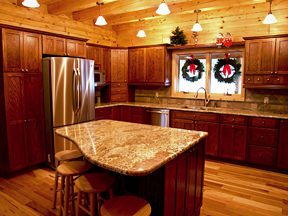 Incorporate outdoor areas for eating. If the majority of your entertaining is in milder months, consider covered, outdoor seating as a way to maximize indoor areas with minimal square footage. Make sure the outdoor area is adjacent to the kitchen for ease in serving and cleanup. Again, it's important to allow for plenty of circulation room when guests are seated at the table. If space is a little narrow, opt for a narrower tabletop and serve guests from a snack bar buffet arrangement.
Built-ins. Window seats are one way to maximize small eating area spaces. Another is to incorporate other storage built-ins for linens, large serveware and occasional use small appliances. The underside space beneath a snack bar counter can provide a great stowaway spot, as well as decorative bookcases, china cabinets and other shelving and storage. A small household desk area can double up as a study space, computer access or message center, with a drop leaf that folds the clutter away when guests arrive.
With a little bit of creative thinking and planning the space once allocated to the formal dining room can take on multiple roles in an active household.