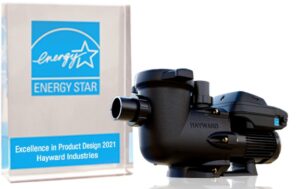 Swimming pools can be a great family gathering point and an enjoyable addition to your Katahdin Cedar Log Home. With new, energy-efficient pool accessories and good planning, your pool can be fun and affordable.
Start with Efficient Pool Equipment
Pool filtration and pumps  have been notorious for using lots of energy, mostly due to old technology and poor design. One company, Hayward,  has taken pool equipment to a new efficiency level, winning Energy Star® Award for Excellence in Design for their energy efficient pumps. Operating with variable speed motors similar to heat pumps, these pool pumps can offer energy savings of up to 65% over conventional pumps at a relatively low initial cost. A good pump is key to an enjoyable pool experience.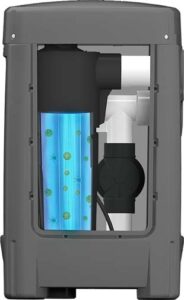 Filtration
One recommendation to keep your pool running smoothly is to oversize the pool filter to keep the flow moving and avoid back pressure that can impede the pump flow. And keep the filters working efficiently by using a robotic pool cleaner that uses very small amounts of energy.
Keeping the Water Clean
One of the shortages that reared up during the pandemic was a severe shortage of chlorine used for keeping pool water healthy. But chlorinated water can irritate skin, damage clothing and change hair color. Hayward tackles the chlorine issue with their HydraPure sanitary system for pools. HydraPure uses ozone, ultraviolet light and hydroxyl radicals to clean pool water continuously, allowing for lower chlorine use. The unit eliminates 99% of chlorine resistant bacteria and cuts chorine use by half. Another benefit is softer, less irritating pool water.
Avoiding Heat —and Energy— Loss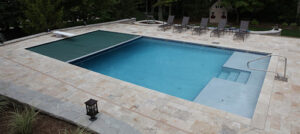 Swimming pools lose a lot of energy due to evaporation and radiation to the sky. Keeping a pool heated can be an energy intensive effort. Some homeowners can provide heated pool water by using solar panels and solar hot water tubes to provide energy or warm water to the mix. Another way to maintain heat is to select a darker color for the pool liner, which absorbs heat rather than reflecting it out. But experts say the best way to conserve heat and energy in a swimming pool is to cover it when not in use. Select a cover that's easy to roll on and off using a reel or invest in an automatic pool cover. A cover can only save energy when it's deployed, so opting for a cover system that's unwieldy or a hassle to put on and remove won't save much.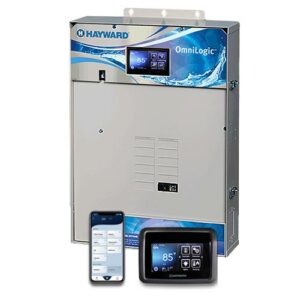 Controls at Your Fingertips
Easy to use controls are another hallmark of an enjoyable pool installation. Hayward's OmniHub smart pool and spa control system and linked mobile app make the pool experience simple and enjoyable. Use the app or voice control assistants to control lighting, fountains, heating and cleaning with timing options for advanced set up.