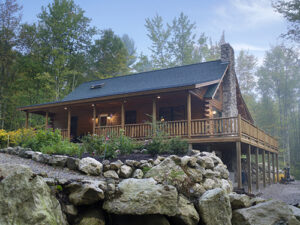 Join us this weekend, May 14-15, for the final Spring 2022 Log Home Show in Burlington, Vermont. We're delighted to be able to get out to our customers where they live and plan to build their Katahdin Cedar Log Homes. That face-to-face connection is so important.
Log home shows are a great day's outing wherever you are in the process of building a custom log home:
Experience a taste of log home ambience in our beautiful log home booth, where joinery, truss and purlin roofs and the Energy Envelope System are on display.
Join other like-minded folks and share concepts and inspiration about ways to achieve your goals.
Meet our experienced team — from log home dealers in your area to sales staff from our home office in Oakfield, Me., we've got answers to your questions and great ideas to share.
For more information:
May 13-15                              Burlington VT
Summer Events
We recommend keeping an eye on Katahdin's events page, which will keep you updated on the latest shows and open house events available. As always, we'll be monitoring COVID -19 safety protocols of each location so that we all can enjoy a safe and fun experience.
We're excited to complete this spring show schedule and move to summer activities, so mark your calendar for the events close to your home!