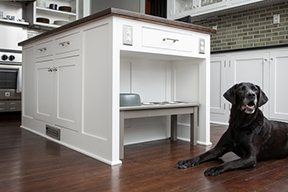 Any pet owner knows that the food and water dishes are sometimes tucked in a relatively out-of-the-way place in the kitchen or mud room. But if you're designing your home for good flow and utility for all occupants, you might want to include your furry friends in the mix. We culled the internet for some cool ideas for food and water bowls. The feeding station location should be near a source of water, which makes kitchens, laundries and mud rooms great choices.
Island Alcove—Kitchen islands are a great space to locate a pet feeding station and dogs and cats like to be part of the action in the gathering place of the home. Create a shallow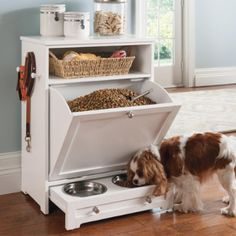 alcove large enough to contain the dishes in the kitchen island. For larger or elderly dogs, you might want to consider an elevated platform to hold the dishes. One easy way to accomplish this is to cut out holes in a piece of plywood or shelving to allow food and water dishes to just drop in. Use shelving or bookcase-type hardware that's adjustable and can allow for height changes among pets.
Mudroom Munching— If you're considering built-ins for the mudroom, add a bin or cubbyhole for storing dry kibble and square off a spot for the canine bowls. Continuing with the theme, you might also locate other dog items like a toy bin; hooks for leashes, collars and leads; and even a drawer to store important medications, papers or grooming supplies.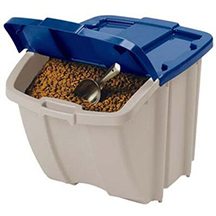 Kibble Pantry— If a walk-in pantry is on your must-have list, make sure you leave space for the big dog and cat food bags. Keep it organized and snack-proof by using a storage unit that has a tight-fitting lid. Ideally, a large lid might have a smaller access hatch for scooping out servings without opening the entire bin. Pair it with a smaller bin for treats and your pets will know when it's time for dinner!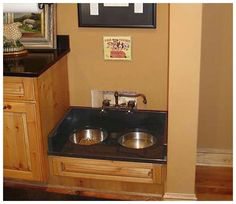 Watering Hole— If you have multiple pets and hate the constant water dish refill routine, try this upgrade to the under island feeding station. Install a small cold water line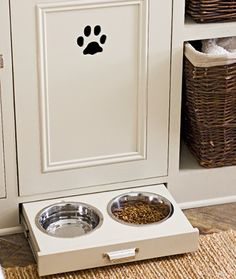 waterspout that is turned on and off at counter level to refill the water dish at a fixed station. No bending over!
Out of Sight Solution—One nifty solution for pet dishes in the kitchen is to dedicate a lower drawer to the pet bowls. Again a board with cutout openings to stabilize the dishes is essential to manage spills. When feeding time is over or the kitchen gets busy, just slide the drawer closed. These convenient solutions can keep both pets and their humans happy.