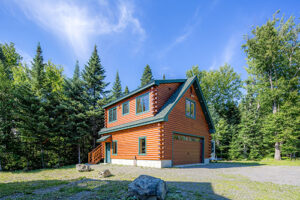 If you're looking for a way to maximize your Katahdin Cedar Log Home's living space, take a second look at your garage. Many homeowners are realizing the benefits of expanding up for living area above the garage space makes a lot of sense. We'll take a look at whether an accessory dwelling might make sense for your new home design.
A Growing Trend
Accessory dwellings are growing in popularity. Lifestyle changes realized from COVID-19 pandemic lockdowns, remote working and the resulting increased family time have influenced multiple design factors in home building, including accessory dwellings.
What are Accessory Dwellings?
Accessory dwellings are living areas —often over garages— with separate entrances and complete amenities for standalone living, including full baths and kitchens. Accessory dwellings made a big play in cities where garages, carriage houses and other traditional outbuildings are converted as rental properties of homes for relatives. In response to increased demand for housing, municipal zoning rules were adjusted to allow for accessory dwellings on smaller lots.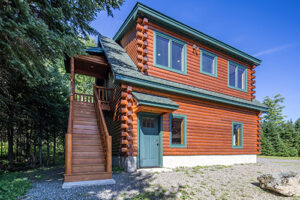 Economic Considerations
Adding an "in-law" or rental apartment above a garage really takes advantage of already fixed costs of foundation and structural components. Raising the roof line and adjusting the pitch just a few degrees can create a comfortable living space above your garage for little added investment. Even if the finish work is delayed, the accessory dwelling area above the garage can be wired and plumbed for future use.
Work-From-Home Space
Another legacy of the pandemic was the shift from going to an office to work to working from home. If this trend has continued or a professional space is needed at your Katahdin Cedar Log Home, developing this over the garage space as a home office area can make a lot sense.
Before or After?
We've noticed a new trend that some folks building their Katahdin Cedar Log Home garage with a finished accessory apartment first to live in while the main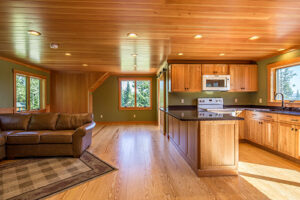 structure is constructed. This was a strategy employed in perhaps one out of ten garage builds before the pandemic disrupted supply channels. More recently, we've noticed that almost 25% of new Katahdin homes are constructed using this timeline. It also provides a way to monitor construction and provide quick decisions as issues arise.
Rustic Cabin Alternative
Another trend that is quite popular in Maine is to construct an expanded garage to serve as a vacation cabin with plenty of room for all the "toys" needed to enjoy all four seasons. These vacation homes are often called "camps" in Maine and provide just enough living space above and more than enough space at ground level for snowmobiles, ATVs, jet skis and boats. If later a main dwelling is desired, it can be constructed alongside the upgraded garage cabin.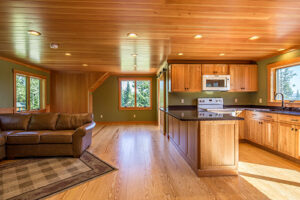 Make Sure Your Garage Space is Modernized
For the vehicles and recreational toys to be stored in your Katahdin Cedar Log Home garage, make sure your garage can accommodate your vehicles, both in width and height. Trucks and SUVs have increased in size— make sure you allow for that extra wheelbase and height. For many homeowners a compact utility tractor is an essential component of property maintenance. While they can be compact in size, the safety roll bar can often extend well above the body of the tractor, so make sure you measure that dimension so that you can store it inside.
If this practical idea for expanding living area over the garage  seems like it might work with you Katahdin Cedar Log Home, be sure to alert your dealer to adjust the garage design.