Looking for a great way to store your summertime gear? The folks at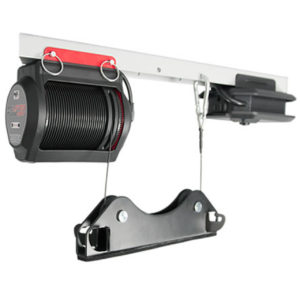 GarageSmart have designed some nifty lifts to get bulky gear off the ground and out of the way. Using a hoist cable, motorized lift and simplified mounting brackets, the GarageSmart product line has several solutions for bikes, rooftop carriers and other bulky garage-stored items.
Start with the GarageSmart Universal Lifter
With a universal adapting lift carriage and sleek design, the Universal lifter is an inexpensive way to elevate anything under 100 pounds. Hoist paddle boats, children's trikes, and bicycles up and out of the way. Pair two universal lifters and your canoe, paddle board or surf board are stored up and out of the way. Your gear is accessible via the GarageSmart app for iOS and Android smartphones.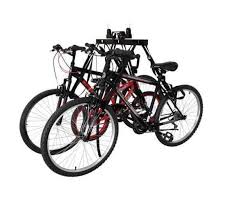 Bikes Are Just a Touch Away
We spotted their Multibike lifter at a recent trade show. We liked how effortless it was to get as many as three bikes up into overhead garage space. With a capacity of 100 pounds, the Multibike lifter operates using a smartphone. The lift is easy for DIY enthusiasts to install and comes with everything needed for mounting, powering up, and attaching the bikes to the lift bar.
Hard Tops Elevated
One auto accessory that can pose a challenge is the Jeep hardtop — heavy and bulky, they're difficult to maneuver. GarageSmart's Hard Top Lifter Kit makes lifting, storing and re-attaching a Jeep Hardtop a breeze. After backing the Jeep under the Hard Top Lifter, it's quick work to  lower the hardtop bracket onto the roof. Then simply connect the straps and lift the hard top up. Included in the kit are two Universal Lifters, a special bracket and straps. Plus, the kit includes a handy accessories net to stow extra gear while the hardtop is stored.
A New Storage Platform
Garage Smart's Platform lifter pairs two lifting units with a 3-foot square platform. The platform can hold up to 175 pounds of gear, putting all types of storage items accessible at the touch of your smartphone app.